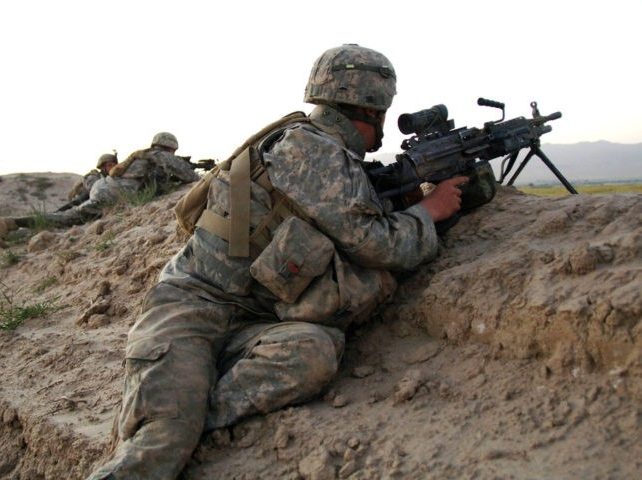 The following post is sponsored by The Committee for Responsible Foreign Policy (CRFP).
The Committee for Responsible Foreign Policy will host an event Wednesday evening in Washington, DC, to look at how prolonged war has eroded the U.S. military's readiness to fight, as the Afghanistan War turns 17 years old.
The event will feature Army Colonel (Ret.) Lawrence Wilkerson, who served as former Special Assistant to Gen. Colin Powell, former chairman of the Joint Chiefs of Staff and former Secretary of State.
Wilkerson, ahead of the event, said in a statement that the 1973 Gates Commission that set up today's all-volunteer military force "never contemplated 17 straight years of war without conscription."
"The Commission calculated that for a large or a prolonged war the country would return to the draft," he said. "That has not happened and our Armed Forces are suffering dramatically."
Among some of the consequences of prolonged war on military readiness, he said:
Our reserve components have been turned into an operational pool of men and women to augment a too-small active component; our military families are suffering greatly from never-ending deployments; recruitment has fallen off and standards have been lowered as a consequence; and the fiscal costs of essentially bribing adequate numbers to serve has become exorbitant and unsustainable.
"The nation is in serious trouble should a war erupt between or among well-equipped great powers. There might not be time for a draft," Wilkerson added.
The event will be moderated by John Burtka, IV, Executive Director of The American Conservative magazine.
It will take place on Wednesday, October 10, 2018, at 5:30 p.m. at the National Indian Gaming Association Building, 224 2nd Street SE, Washington, D.C. 20003.
The Committee for Responsible Foreign Policy is a 501(c)(4) organization with the mission of pursuing a more restrained foreign policy that adheres to the Constitution. The organization aims to increase awareness of Congress' Article I responsibility to oversee war. For more information on CRFP, please visit http://responsibleforeignpolicy.org.
http://feedproxy.google.com/~r/breitbart/~3/CvYBwc2nV5s/