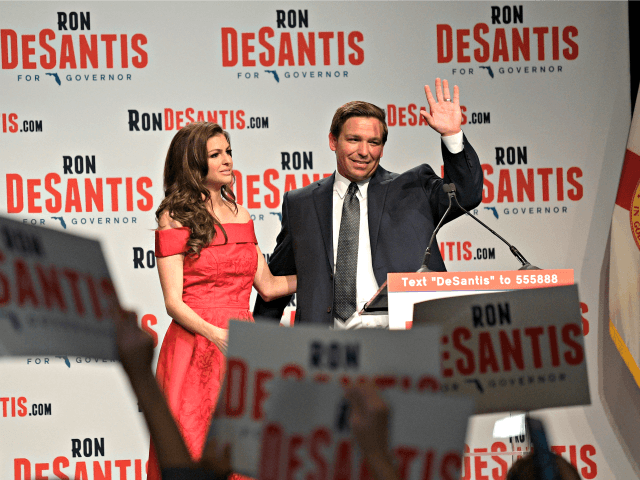 ORLANDO Fla. — In his first interview after winning Florida's gubernatorial election, Ron DeSantis told Breitbart News his victory marks a "good day for Florida."
DeSantis said he believes "the sky is the limit in terms of the economy" now that he will be able to enact a conservative economic agenda.
"Florida is on a roll," he told this reporter moments after delivering a victory speech tonight in Orlando's Rosen Centre. "We are going to continue to build up the success. I think the sky is the limit in terms of the economy. I think we will be able to tackle other issues we have, whether it is environment, transportation. But this is a good day for Florida."
Asked how he anticipates working with President Donald Trump, DeSantis replied:
We are going to be able to really do a lot together. The governor can't do it all here, unfortunately. We actually have to interact with the federal government. So if we need something for military I will call him. When we need something for environment or transportation. And he loves Florida.  So we never had a president who is this tied to Florida. So that is going to make my job easier.
DeSantis did his 1st interview after winning with me at Breitbart. Here is part of it: pic.twitter.com/4XpvwJ9hrh

— Aaron Klein (@AaronKleinShow) November 7, 2018
DeSantis beat opponent Andrew Gillum, a far-left ideologue, in a race that serves as an important victory for the Republican Party in Florida as well as for Trump's reelection efforts in this crucial battleground state.
DeSantis served in Iraq for the U.S. Navy and received a Bronze Star Medal for Meritorious Service and the Iraq Campaign Medal before becoming the Congressman for Florida's Sixth District. He is known for his strong support for Trump's policies
DeSantis ran a campaign in significant part focused on growing Florida's economy. DeSantis said he will capitalize on Florida's attractive positon following Trump's change in state and local tax (SALT) deductions. He pledged in a recent interview with Breitbart News to further "do what we can in terms of eliminating some dumb taxes in Florida, like a business rent tax. I would like to reduce our business tax generally."
"The greater imbalance we can have between a low tax Florida and high tax in these other areas that is going to recruit more and more investment into Florida."
Speaking to Breitbart News, DeSantis continued: "And I think we are looking at a mass migration potentially of financial services into places like Palm Beach and Miami. I think you're going to see more technology developed in Florida if we keep the climate good and do some of the things I am talking about. And then even manufacturing because I think it would be attractive to expand the manufacturing footprint here."
Aaron Klein is Breitbart's Jerusalem bureau chief and senior investigative reporter. He is a New York Times bestselling author and hosts the popular weekend talk radio program, "Aaron Klein Investigative Radio." Follow him on Twitter @AaronKleinShow. Follow him on Facebook.
http://feedproxy.google.com/~r/breitbart/~3/3JV0XHRDwLs/