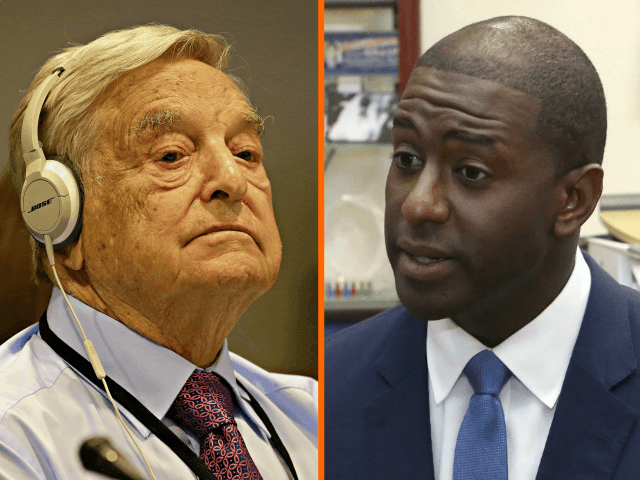 ORLANDO, Fla. – Florida gubernatorial candidate Ron DeSantis is warning that if Democratic opponent Andrew Gillum is victorious then his state will "become a petri dish for people like George Soros and Tom Steyer," referring to the activist billionaires.
"And I think that that will have a really negative effect," continued DeSantis, speaking to Breitbart News in an exclusive interview.
"[Gillum] is in the pocket of people like Tom Steyer and George Soros. So if he is able to win in a state like Florida I think you are going to see a conflagration across the country of these hard left candidates emerging and they can do a lot of damage if they could get into office."
DeSantis was responding to a question about the national importance of his race beyond the ramifications for Florida.
He further replied:
If I win, we will keep Florida going in a good direction. Twenty-twenty I will be lined up making sure that Republicans win across the ballot. I also think it is good to have big states that are doing well under conservative leadership. Texas, Florida have both done very well. We need to continue that. And the more that we do well in states that are very prominent I think that helps Republicans across the country because we can point to these success stories. And we had a lot of success stories at the state level and with our governors. So we are going to continue to do that. I think it is really important.

We have a pretty clear contrast here between a guy like me who is a solid conservative. Served in the military. Has done everything the right way.  Versus Gillum, who represents this radical progressive left. He has used the office to feather his own nest and benefit himself.
Gillum is heavily tied to Soros and his campaign is also backed by Steyer.
Days before Gillum's Aug. 28 primary, Soros joined with fellow billionaire Steyer to lead a group of donors making a $650,000 infusion into Gillum's coffers.
Soros contributed to The Collective, a little-known but increasingly influential political organization that says it is seeking to build a "black political power" movement. The Collective reportedly injected nearly $2 million into Gillum's campaign, funding television and radio ads and get-out-the-vote drives.
Gillum worked for the Soros-financed People for the American Way. He recently disclosed a New York hotel invoice made out to Soros's Open Society Foundations for the same weekend the politician was in the city and obtained a ticket to see the popular "Hamilton" Broadway show in a fiasco involving a corruption probe of the city of Tallahassee, where he serves as mayor, and undercover FBI agents.
Breitbart News reported that Gillum graduated from an Oakland, California-based training school for progressive revolutionaries that has spawned a list of activists who have gone on to become the who's who of the far-left leadership world, with many taking senior positions at organizations financed by Soros.
In scores of cases, graduates of the Rockwood Leadership Institute founded or directed notorious Soros-financed activist groups, such as Black Lives Matter, Media Matters for America, MoveOn.org and the Tides Foundation, one of the nation's largest funders of progressive groups.
Soros's own Open Society Foundations sent top staff to Rockwood for training. Notorious radicals Van Jones and Linda Sarsour are among the many famous names listed as alums.
Gillum is listed as a 2012 Rockwood alum. The Florida politician's involvement with the radical school was not cursory or symbolic. Only five months ago, Gillum boasted in a speech to the Center for Environmental Health that he attended the institute "for about a year and a half."
 Aaron Klein is Breitbart's Jerusalem bureau chief and senior investigative reporter. He is a New York Times bestselling author and hosts the popular weekend talk radio program: Aaron Klein Investigative Radio. Follow him on Twitter @AaronKleinShow. Follow him on Facebook.
http://feedproxy.google.com/~r/breitbart/~3/60PLFkGim7I/