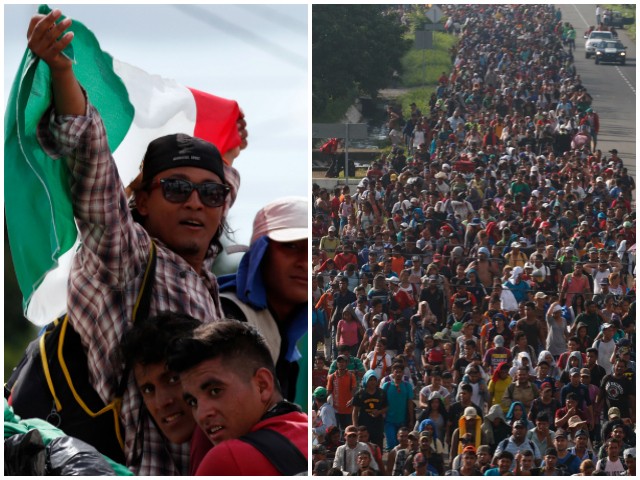 West Virginia Attorney General Patrick Morrisey told Breitbart News Daily on Friday that when Democrats such as Sen. Joe Manchin (D-WV) offer amnesty, it serves as a "welcome invitation" for more migrant caravans and illegal immigrants.
Breitbart News Daily host Amanda House opened up the interview, noting that a poll released this week has Republican Morrisey leading over incumbent Democrat Manchin in the West Virginia Senate race.
Morrisey told Breitbart News that he and his campaign needs to let West Virginians know that "there's a conservative fighter who's going to advance the Trump agenda," while Manchin remains beholden to Senate Minority Leader Chuck Schumer (D-NY).
"People in West Virginia respect our president, and they want to see him succeed, we need to get that message out in the days and weeks ahead, and if we do that, we will win this race," Morrisey explained.
House then asked the West Virginia conservative what he thinks about the several thousand-strong migrant caravan barreling towards the southern American border. Morrisey contended that when Democrats such as Manchin offer amnesty to illegal immigrants, it serves as "welcome invitation" for more migrant caravans and illegal immigration.
"I think more and more people are going to know over the next ten days this is what happens when an open border liberal like Joe Manchin and all of his colleagues in Washington offer amnesty to illegal immigrants, it's a welcome invitation for caravans and illegal immigrants to enter the country," Morrisey charged.
"There are gangs there, there are drug traffickers, there are human traffickers in the caravan, and to me, it's very disturbing that Joe Manchin was opposed to the wall, it's disturbing that Manchin is pro-amnesty and that people are not recognizing the nature of the threats," Morrisey continued. "Here in West Virginia when you look at an open borders policy, we know that's potentially bad for human trafficking, we know that open borders also has led to a lot of the illicit drug supply that flows into West Virginia."
Breitbart News Daily airs on SiriusXM Patriot125 from 6:00 a.m. to 9:00 a.m. Eastern.
http://feedproxy.google.com/~r/breitbart/~3/fQIwaCwy0Sc/