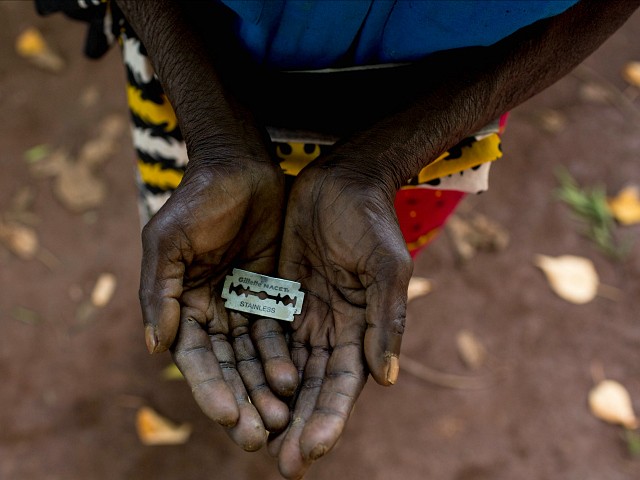 The FIRST STEP Act, a White House-endorsed U.S. Senate criminal justice reform bill, would allow for the early release of people convicted of female genital mutilations, emails between Justice Department and Senate GOP officials obtained exclusively by Breitbart News show.
The emails are between a Senate GOP staffer from an office opposed to the FIRST STEP Act and a Justice Department official analyzing the legislation. In them, the Senate GOP staffer lists out some background information then asks a series of questions from the administration for official analysis of the bill. It opens by explaining the early release process, and how prisoners if this bill became law would be able to accrue them–and how certain crimes are excluded from receiving early release.
"The bill creates a new 'time credit' system that allows prisoners to accrue credits by participating in 'evidence-based recidivism reduction programming or productive activities,'" the Senate GOP staffer wrote to the DOJ official. "Prisoners can use these credits to be transferred into 'pre-release custody or supervised release.' §3632(a)(4)(D) lists offenses which make an offender ineligible to accrue time credits."
But then the email goes on to detail how, among a few other sex crimes, the FIRST STEP Act does not exclude conviction on female genital mutilation charges from being eligible for time credits accrued for early release.
"I notice that the following offenses are not listed on the 'ineligible prisoners' exclusion list," the GOP staffer wrote to the DOJ official, before listing out the various crimes not excluded from eligibility for early release under the FIRST STEP Act. "18 U.S.C. 2250 – failure to register as a sex offender · 8 U.S.C. 1328 – importing aliens for prostitution · 18 U.S.C. 116 – female genital mutilation · First time offender under 18 U.S.C 3559(c)(2)(F) – assault with intent to commit rape, aggravated sexual abuse, sexual abuse, abusive sexual contact, and other offenses. This offense is listed on the exclusion list, but only 'if the offender has a previous conviction, for which the offender served a term of imprisonment of more than 1 year…'"
At that point, the GOP staffer lists out a series of questions–to which, in the emails obtained by Breitbart News, the Department of Justice's responses are contained in red text. The first question just confirms that the Justice Department considers those crimes "sex-related offenses." The second question, however, confirms that it is the position of the Department of Justice and the Trump administration that any convict on these offenses–including on a female genital mutilation charge–would under the FIRST STEP Act be eligible for the time credits that amount to early release from prison.
"Would an offender convicted of the offenses listed above be eligible to accrue time-credits in the Senate's First Step Act?" the GOP staffer asked the DOJ staffer. The DOJ staffer replied: "Yes."
A number of Senate GOP sources on both sides of this issue say this is a matter likely to be resolved or fixed with an amendment down the road, but critics of the bill say this shows how hastily this legislation was crafted and that while the larger goal of criminal justice reform may be laudable it is not something to rush into.
The fact that Female Genital Mutilation convictions could be lightened with early release from the FIRST STEP Act is particularly interesting given the fact that there really have not been any such convictions since the law went onto the books. But the very same Trump Justice Department that confirmed this detail to a Senate GOP office has tried to pave the way on getting the first such conviction against a Detroit doctor under 18 U.S.C. 116.
"Three Indicted for Female Genital Mutilation," was the headline of an April 26, 2017, Department of Justice press release, in which the U.S. Attorney's Office for the Eastern District of Michigan announced:
Two Detroit doctors and one co-conspirator were charged in an indictment today for their alleged participation in a scheme to perform female genital mutilation (FGM) on minors, to transport these minors across state lines, and to obstruct justice.
As laid out by the Justice Department press release, the facts of the case are as follows:
Jumana Nagarwala, M.D., 44, of Northville, Michigan, Fakhruddin Attar, M.D., 53, and his wife, Farida Attar, 50, both of Livonia, Michigan, are charged with performing FGM on minor girls out of Fakrhuddin Attar's medical office in Livonia, Michigan. According to the indictment, some of the minor victims allegedly traveled interstate to have Nagarwala perform the procedure. The indictment alleges that Nagarwala performed FGM on girls who were approximately six to eight years old. All three are also charged with a conspiracy to obstruct the federal investigation, and Nagarwala and Fakhruddin Attar are charged with giving false statements to a federal agent.
The next sentence, however, is the key sentence of that 2017 press release and why this is particularly relevant: "This is believed to be the first case brought under 18 U.S.C. 116, which criminalizes FGM."
No case has been brought before, and as the Justice Department is attempting to move forward on the first-ever anti-female genital mutilation case in the history of the law, elements of the GOP and Democrat Party on Capitol Hill–as well as the administration itself–are backing criminal justice reform legislation the very same Justice Department says would allow convicted under this statute to accrue time credits essentially amounting to early release.
The text of 18 U.S.C. 116, the law forbidding female genital mutilation, is as such:
(a) Except as provided in subsection (b), whoever knowingly circumcises, excises, or infibulates the whole or any part of the labia majora or labia minora or clitoris of another person who has not attained the age of 18 years shall be fined under this title or imprisoned not more than 5 years, or both.
(b) A surgical operation is not a violation of this section if the operation is—
(1) necessary to the health of the person on whom it is performed, and is performed by a person licensed in the place of its performance as a medical practitioner; or
(2) performed on a person in labor or who has just given birth and is performed for medical purposes connected with that labor or birth by a person licensed in the place it is performed as a medical practitioner, midwife, or person in training to become such a practitioner or midwife.
(c) In applying subsection (b)(1), no account shall be taken of the effect on the person on whom the operation is to be performed of any belief on the part of that person, or any other person, that the operation is required as a matter of custom or ritual.
(d) Whoever knowingly transports from the United States and its territories a person in foreign commerce for the purpose of conduct with regard to that person that would be a violation of subsection (a) if the conduct occurred within the United States, or attempts to do so, shall be fined under this title or imprisoned not more than 5 years, or both.
The novel case that the Trump Justice Department has brought against the Detroit doctor, however, is floundering, as a judge threw out major portions of the charges against Nagarwala and the others charged–but key portions of the charges do remain, despite a push from Nagarwala's attorneys to get the judge to dismiss the rest of the charges.
Here is the latest from a report from the Detroit News just a few days ago:
A Northville doctor charged in the nation's first female genital mutilation case tried to get one of the last charges against her dismissed Thursday.
Dr. Jumana Nagarwala wants a judge to dismiss a conspiracy charge involving two 7-year-old Minnesota girls who were brought to Metro Detroit for what prosecutors call an illegal procedure performed by the Northville doctor. The procedure is practiced by some members of the Dawoodi Bohra, a Muslim sect from India that has a small community in Metro Detroit.
The request came nine days after U.S. District Judge Bernard Friedman dismissed female genital mutilation charges against Nagarwala and others. The judge's order was a significant, but not fatal, blow to a novel criminal case because Friedman left intact conspiracy and obstruction charges that could send Nagarwala and three others to federal prison for decades.
Prosecutors allege Minnesota mothers Haseena Halfal and Zainab Hariyanawala brought their daughters to Detroit in February 2017 to undergo female genital mutilation. Prosecutors say the trip constituted a crime: conspiracy to travel with intent to engage in illicit sexual conduct.
There was no agreement to commit the crime and no conspiracy, Nagarwala's lawyer Shannon Smith wrote in a court filing Thursday while asking Friedman to dismiss the charge.
In the decision to throw out a bunch of these charges, Judge Bernard Friedman wrote that it is his view that Congress did not have the authority to bar female genital mutilation–making any legislation discussion of this statute, as it is clearly currently being discussed during the FIRST STEP Act negotiations, particularly more relevant.
A number of conservative leaders, as Breitbart News has reported, criticized the judge's decision amid a public outcry and backlash in response to it.
It remains to be seen how this will play out–and whether DOJ officials will appeal the ruling of Judge Friedman regarding the as-of-yet-still-untested female genital mutilation statute.
That being said, whatever happens with this particular novel case or this law as it is tested for the first time, the issue of female genital mutilation is prevalent in the United States and around the world.
As Breitbrt News reported back in 2015, wide-scale Islamic immigration to the United States puts half a million girls at risk of female genital mutilation here at home–and it is already a common practice in several Middle Eastern and African nations.
http://feedproxy.google.com/~r/breitbart/~3/HLMCkDA6w60/