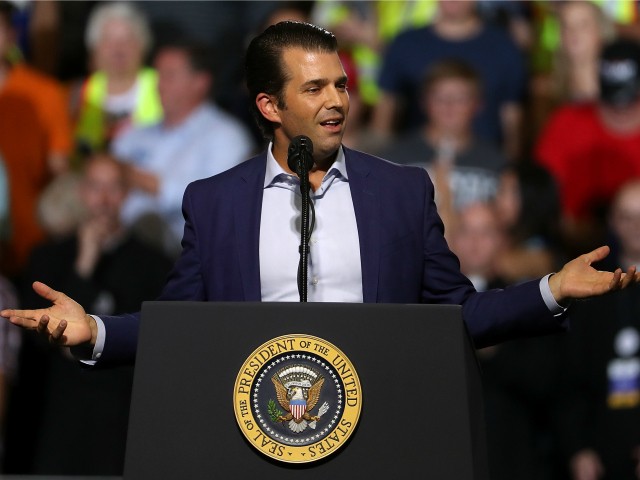 Donald Trump Jr. told Breitbart News Saturday he is thrilled that former President Barack Obama is active on the 2018 midterm campaign trail because it shows a clear contrast between Obama's failed policies and his father, President Donald Trump's, successful policies.
"Without question, he's our best salesman," Trump Jr. said of Obama on Breitbart News Saturday on SiriusXM 125 the Patriot Channel. "No one with a brain actually believes he did anything good for our economy or for our foreign policy. Everyone saw that anything he did basically put America at risk and made us weaker. Every time he drew a red line, other countries walked all over it. He did it again, and they walked all over it. Guess what? Countries, whether it's foreign policy-wise or whether it's business-wise, they realize you have someone now that actually cares about America in there, that's actually doing it–not someone who's going to make us look weak where you can walk all over us because that's the precedent that he set. There's a new sheriff in town. We've changed all that."
On @BreitbartNews Saturday @DonaldJTrumpJr joined Matt Boyle to discuss @BarackObama's return to the spotlight. Listen on @SIRIUSXM now! https://t.co/0MA0duZOvn

— SiriusXM Patriot (@SiriusXMPatriot) September 15, 2018
Trump Jr. also mocked Obama's efforts in a series of recent speeches to take credit for the successful Trump economy.
"The biggest joke I've seen in the last two years is Obama claiming credit–trying to claim this economy," Trump Jr. said, "because his policies of over-taxation, oppressive regulation, guess what? That didn't do anything. That drove this country into the ground. That led to the worst recovery in the history of probably economics but certainly our country's history. For him to run around doing this now–there's a reason why on November 9, 2016, all of those matrices shot up like a rocket. It's because businesses, employers, people realized you got someone who's actually going to fight for you, not fight just for special interests, not fight for people in countries that hate our guts, but actually fight for real Americans. Real Americans, their jobs, their companies, their businesses. That's what happened, and when consumer confidence started going up the day my father won because they knew he wasn't going to oppress them, everything started following. I want to keep that going; that's how we get rid of some of the other problems we're having. That's how we get rid of unfunded pension liability. That's how we get rid of some of our deficits, is by producing, having GDP numbers above four percent. Okay, remember when Obama said you need a magic wand to make that happen? Well, abracadabra, Obama. We're doing it."
The "abracadabra" and "magic wand" reference Trump Jr. made was in response to Obama infamously questioning in 2016 if Trump had a "magic wand" to fix the economy to fulfill the promises he was making:
Pres. Obama on Donald Trump: "The answer is he doesn't have an answer." #POTUSonNewsHour https://t.co/0XtuCDJvAx

— PBS NewsHour (@NewsHour) June 2, 2016
Trump Jr. also said that failed 2016 Democrat presidential nominee Hillary Rodham Clinton's public appearances–as she intends to do multiple Democratic National Committee (DNC) fundraisers in the coming weeks–are great for the GOP.
"That's the other one; I love for her to be out there," Trump Jr. said of Clinton. "The more she's out there, the better it is for us."
LISTEN TO DONALD Trump Jr. ON BREITBART NEWS SATURDAY ON SIRIUSXM 125:
http://feedproxy.google.com/~r/breitbart/~3/NLTjCshyLv0/