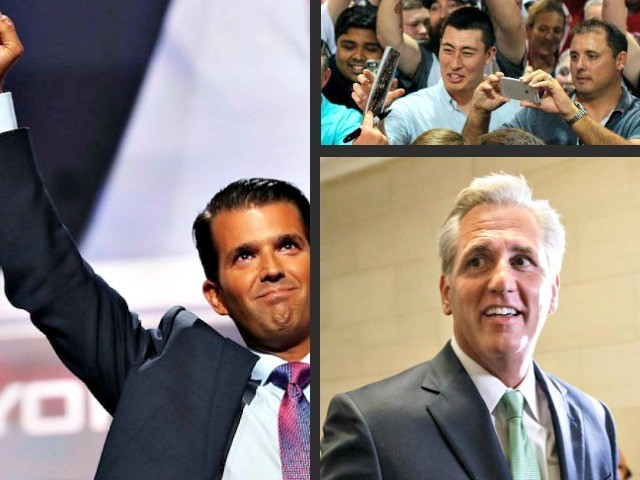 Donald Trump, Jr., and House Majority Leader Kevin McCarthy will host a teletownhall Sunday with a million low-propensity GOP voters, imploring them to get out to vote and back Republicans in Tuesday's midterm elections, Breitbart News has learned exclusively.
""I can't wait to join with Don Jr. again to rally the grassroots and help secure another House Republican majority," McCarthy told Breitbart News.
"For months now, both Leader McCarthy and I have been doing everything in our power to help Republicans preserve our majority in the House," Trump, Jr., President Donald Trump's eldest son, added in a statement to Breitbart News. "For Republicans to be successful on Tuesday, we need our base to be motivated, and it's our hope that this grassroots teletownhall is one way for us to make that a reality."
The teletownhall will take place from 4:00 p.m. ET to 5:00 p.m. ET on Sunday afternoon, just two days before the midterm elections. McCarthy's outside group, Protect the House, has organized the townhall, and on it participants will have an opportunity to ask questions of Trump, Jr., and McCarthy. The group will call over one million identified low-propensity GOP voters in key districts across the country, offering them the opportunity to participate in the event and encouraging them to vote on Tuesday.
McCarthy, per a source familiar with the organization, came up with the idea for the large call as a way to engage with and rally grassroots voters in key districts in the final hours before they head to the polls.
It remains to be seen which party will control the majority of the U.S. House of Representatives heading into President Trump's second half of his first term in office after Tuesday's midterm elections, though most estimates have it hanging in the balance overall. Democrats only need a net gain of 24 seats total to re-install Minority Leader Nancy Pelosi as Speaker of the House, but Republicans are fighting to defy historical trends and stop the Democrats from achieving that goal.
The majority could come down to just a handful of seats in key battleground districts, so every vote across the country counts in this all-important midterm election.
http://feedproxy.google.com/~r/breitbart/~3/ZSyBPb2-rrA/