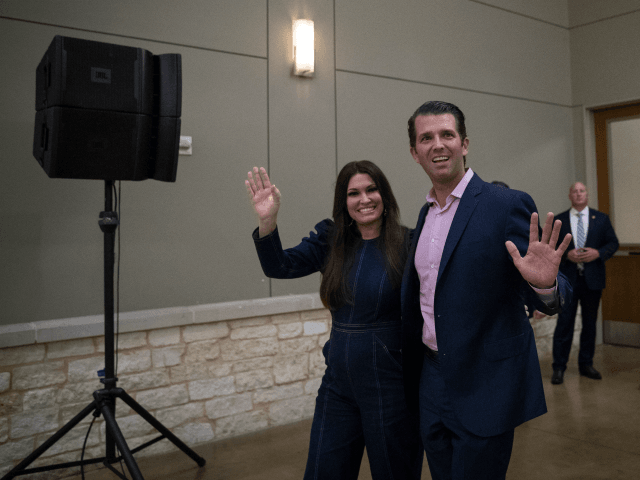 Donald Trump Jr. and Kimberly Guilfoyle face another busy week on the campaign trail for congressional candidates, with only two weeks until the midterm elections.
Trump Jr. cautioned supporters of the president from being complacent, urging them on Monday to combat the leftist mob trying to hurt the MAGA agenda.
"If we blow them up, that's great, let's run up the score, it just takes ten minutes, go out and vote," he said in an exclusive interview on Breitbart News Daily with Breitbart News political editor Matthew Boyle on Sirius XM 125.
The pair are traveling to West Virginia, Indiana, Ohio, and Montana to stump for candidates supportive of President Donald Trump's agenda.
"We're full speed ahead," he said.
Trump Jr. urged voters in those states not to fall for the lie of the so-called moderate Democrats like Senators Jon Tester in Montana, Joe Donnelly in Indiana, and Joe Manchin in West Virginia.
"These are not people that have the MAGA agenda at heart," he said, noting that their voting record showed support for Chuck Schumer and Nancy Pelosi. "These guys are pretending to be somebody they're not."
Guilfoyle noted that Trump's victories on Kavanaugh and the economy enraged the left, with Democrats feeding off of that energy.
"That's why the hysteria on the left is mounting, the vitriol, the incendiary rhetoric that they have been using out on the stump," she said. "You see people like Maxine Waters and Schumer, and Nancy Pelosi are their role models."
Trump Jr. noted that the fight over Brett Kavanaugh galvanized supporters and showed them who the Democrat party had become.
"This is not your grandfather's Democratic party, these people have lost their minds," he said. "They have no agenda other than hate, if they can't get it done that way, they go with violence, it's really turning people off."
http://feedproxy.google.com/~r/breitbart/~3/cERdjOpspfQ/