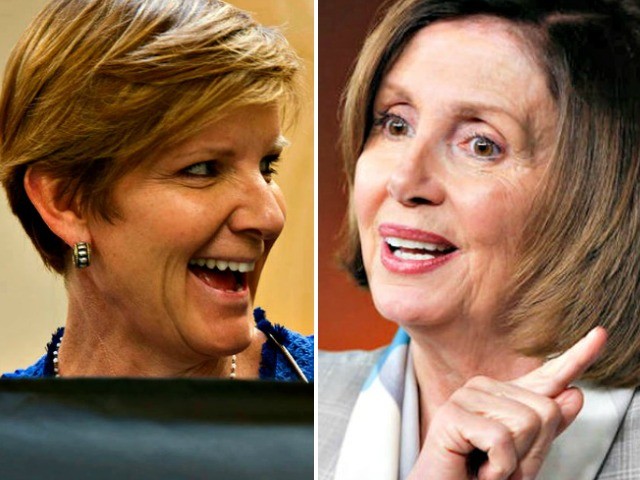 Nevada businessman Danny Tarkanian told Breitbart News Saturday that his congressional race will likely become the most expensive this cycle because House Minority Leader Nancy Pelosi (D-CA) recruited and raised millions of dollars to build Susie Lee's congressional race from the ground up.
Breitbart News Saturday host Matthew Boyle opened up the interview noting that Nevada's third congressional district serves as "ground zero" for the battle to maintain the Republican majority in the House. Democrats need to gain 24 seats in the November midterm elections to achieve a one-seat majority in the House and Republicans have the chance to flip the NV-3 to Republican, which would make it that much harder for Democrats to take the House of Representatives.
Tarkanian told Boyle that the race represents the "best chance to take back a Democrat seat."
Boyle then asked Tarkanian about how Susie Lee has close ties with House Minority Leader Nancy Pelosi (D-CA).
"Nancy Pelosi helped recruit her to run, she's raised her millions of dollars, she's raised twice as much money as the incumbent race for the last election," Tarkanian said.
"It will probably be the most expensive congressional race in the country," Tarkanian added.
Boyle then asked Tarkanian about Hillary Clinton's recent comment that Democrats cannot be civil while they remain a minority in Congress, or when Eric Holder suggested that when Republicans go low, "We kick them." Boyle asked whether Democrat Susie Lee has disavowed either Clinton or Holder's controversial comments.
Tarkanian charged that Lee could not disavow either Democrat leaders' comments because she remains beholden to them while they are raising money for her campaign.
"No, cannot say anything about any of them because helping her raise money. And she sold her soul too," Tarkanian said. "She has no chance to win on the issues; she can't win on the economy, she can't win on foreign policy, she can't win on the fact that President Trump keeps getting hostages released. So, she relies upon their money so they can run deceitful personal character assassination ads, and we're at a point in our country that we're either going to stand up and do what's right and vote for people that care and love our country and vote for things that will make it a better place, or we're going to vote for these smear tactics from people that will lie and say anything to get elected."
Breitbart News Saturday airs on SiriusXM Patriot 125 from 10:00 a.m. to 1:00 p.m. Eastern. 
http://feedproxy.google.com/~r/breitbart/~3/AfwVcXHzuzw/