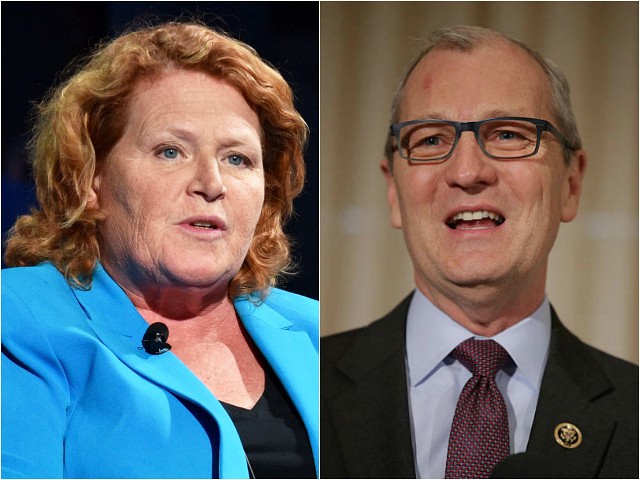 Democratic Sen. Heidi Heitkamp is taking heat for her refusal to "crack down on dangerous sanctuary cities" in an ad released Tuesday.
The North Dakota Republican Party ad opens with a narration: "President Trump wants to stop illegal immigration — but Heidi Heitkamp must not." Heitkamp faces a tough challenge from Republican Rep. Kevin Cramer.
President Donald Trump flashes onto the screen with his comments on Heitkamp at a recent rally: "Heidi voted in favor of the deadly, very very dangerous, horrible, sanctuary cities."
The ad points to three opportunities Heitkamp had to vote to defund sanctuary cities but did not. "When Heidi was confronted with her record of failure, she dismissed the issue as a 'scare tactic,'" the ad states.
The ND Republican Party ad calls for viewers to "tell Heidi Heitkamp this just isn't a scare tactic. It's our lives."
"By repeatedly supporting sanctuary cities and failing to combat illegal immigration, Heitkamp has let North Dakotans down and failed to represent their interests during her time in the Senate," North Dakota Republican Party Communications Director Jake Wilkins said upon release of the ad. "Senator Heitkamp should talk with the families and victims terrorized by criminal illegal immigrants before attempting to dismiss this issue as a Republican 'scare tactic.'"
Wilkins added support for Heitkamp's Republican challenger, "North Dakotans deserve a Senator like Kevin Cramer who will fight to protect our citizens and uphold the rule of law."
Money has been flowing into the Senate race, and the Grand Forks Herald reported that it is expected to be the most expensive in North Dakota's history.
Cramer's campaign released an ad Monday highlighting the economy with the rollback of regulations and tax cuts. He doesn't directly mention President Trump in the ad but does invoke Trump's correlation of economic measures under his presidency to a "rocket ship."
Michelle Moons is a White House Correspondent for Breitbart News — follow on Twitter @MichelleDiana and Facebook.
http://feedproxy.google.com/~r/breitbart/~3/ZEU-PvNVhfM/