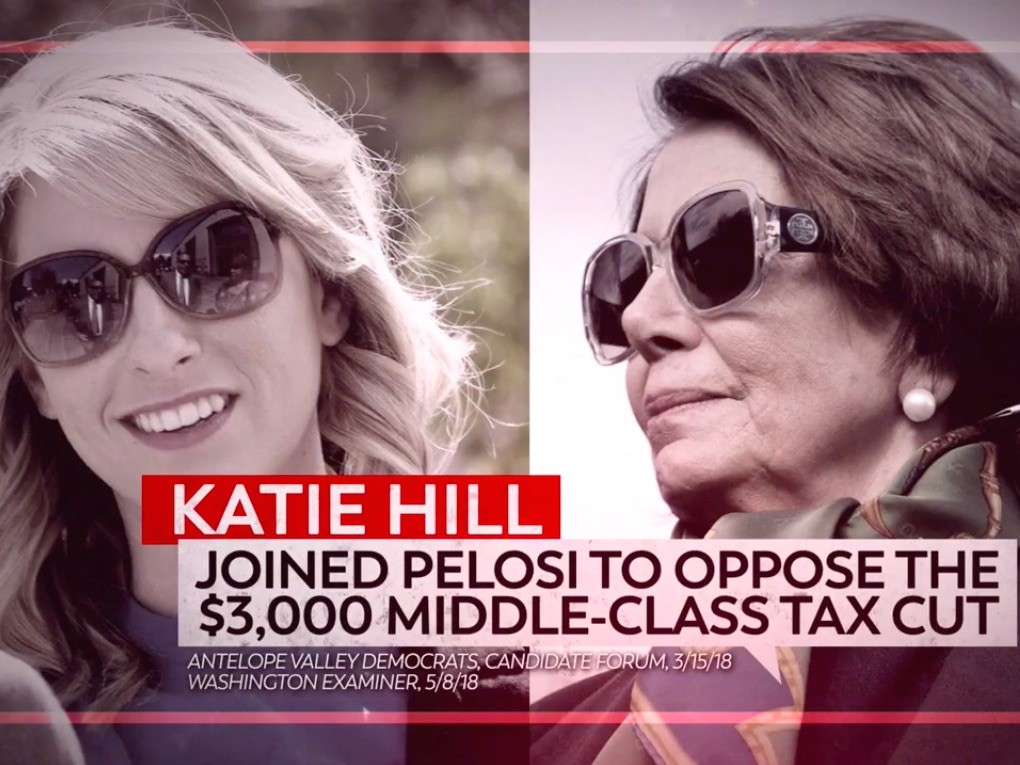 The Congressional Leadership Fund (CLF), a super PAC supported by House Republican leadership, is launching a new ad on Friday targeting Democrat Katie Hill for supporting Nancy Pelosi's proposed tax hikes and higher gas prices.
The ad is called "$3,000," referring to the savings that CLF argues families in the district will enjoy due to President Donald Trump's 2017 tax cuts.
In a statement, the Congressional Leadership Fund said, "The ad contrasts Steve Knight's work to cut middle-class taxes, resulting in $3,000 in savings for California families, with Katie Hill's liberal agenda of higher taxes and increased gas prices. The ad will run on television in the Los Angeles media market and on digital platforms throughout the district."
The 30-second ad begins with positive messages about Knight's record on cutting taxes, then pivots to Hill's support for raising them.
Hill is challenging incumbent Rep. Steve Knight (R-CA) in the 25th congressional district, one of seven Republican-held districts in California where Hillary Clinton won more votes than Donald Trump in 2016.
Courtney Alexander, CLF's communications director, said: "Steve Knight cut middle-class taxes, saving California families nearly $3,000, now four million jobs have been created and unemployment is at a record low.
"Liberal Katie Hill joined Nancy Pelosi to oppose Californians' middle-class tax cut, and she supports radical regulations that would increase gas prices by 60 cents. Katie Hill would mean higher taxes and higher gas prices, she's too expensive for Californians."
The proof for CLF's claim about Katie Hill's support for higher gas prices comes from a, "ask me anything" (AMA) forum on the Reddit message board in June 2017, where the following exchange ensued:
Q: Hi Katie! Since climate change is one of our nation's most existential threats, and since the Trump Administration has done nothing on this issue, will you commit to supporting California's upcoming cap and trade bill, even if it means causing gas prices to go up by some 30-60 cents by some estimates? Given that climate change is an existential threat, it seems this is a small price to pay for the future of our children.

Katie Hill: I agree that it is a small price to pay. We still need to have stronger regulations that do not allow corporations to pay for the privilege to pollute. I support strengthening regulations to move us towards a greener and more sustainable society. Cap and trade is a part of that and a step in the right direction, but not a full solution.
The CLF has run similar ads before, and continues to pound home the message: Hill equals Pelosi equals taxes equals high gas prices. CLF has also opened a field office in the 25th district to reach voters directly.
The issue of gas prices is a potent one in California, where Republicans are already backing a repeal of the state's new 12-cent-per-gallon gas tax hike in Proposition 6, hoping that their candidates will benefit from higher turnout of anti-tax voters as a result.
Hill struggled in a recent debate against Knight, where she admitted she did not know much about local opposition to the Cemex sand and gravel mine — a top priority for the district.
She also drew criticism for making a sex joke, on television, at the expense of one of her female staffers. (She went on to protest against the confirmation of U.S. Supreme Court Justice Brett Kavanaugh, calling him a "serial sexual predator.")
Pelosi has made clear that she intends to return as speaker of the House if Democrats win a majority in November.
Joel B. Pollak is Senior Editor-at-Large at Breitbart News. He is a winner of the 2018 Robert Novak Journalism Alumni Fellowship. He is also the co-author of How Trump Won: The Inside Story of a Revolution, which is available from Regnery. Follow him on Twitter at @joelpollak.
http://feedproxy.google.com/~r/breitbart/~3/MR5u2hYZmh0/