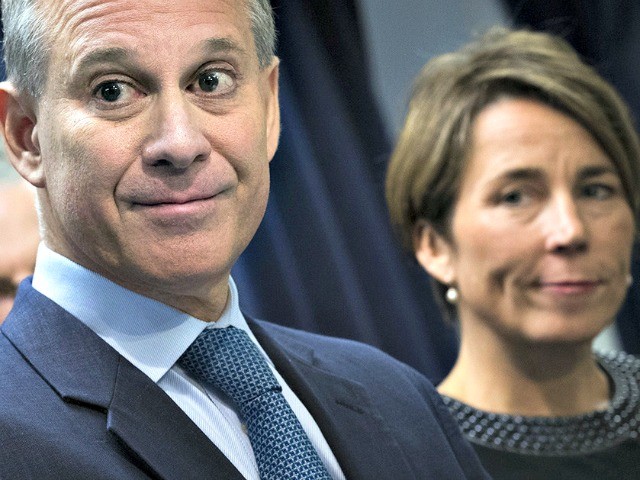 Former New York Attorney General Eric Schneiderman is off the hook on criminal abuse charges after a six-month investigation found he could not be prosecuted due to the statute of limitations on the charges.
Nassau County District Attorney Madeline Singas announced Thursday that Schneiderman would not be charged for allegedly threatening and physically abusing several women, and that she was closing the case.
"Following an exhaustive review, evaluation of the facts, the law, and applicable statutes of limitations, I have concluded our investigation into the allegations of physical abuse allegedly committed by former New York State Attorney General Eric T. Schneiderman without criminal charges," Singas said in a statement.
Singas added that her office "found no misconduct by Mr. Schneiderman's staff."
The Nassau County District Attorney said she "personally interviewed each of the women" accusing Schneiderman and "their attorneys," state attorney general's office employees, Schneiderman's security detail, and people identified as witnesses.
"I believe the women who shared their experiences with our investigation team, however legal impediments, including statutes of limitations, preclude criminal prosecution," Singas said. "Our investigation also highlighted deficiencies in New York law for which I have drafted remedial legislation."
Schneiderman was accused of physically abusing four women in May, when the New Yorker published a report including accounts from four different women, who said they had relationships or romantic encounters with him, accusing him of nonconsensual physical violence.
One woman claimed he "had been choking, beating, and threatening her for the entirety of their relationship, and that several times he threatened to have her killed if she ever tried to leave him."
Schneiderman denied the allegations against him in May.
The former New York attorney general had created a persona of being an advocate for women's rights when he filed a lawsuit against disgraced Hollywood bigwig Harvey Weinstein and received an award from the pro-choice National Institute for Reproductive Health.
But the accusations of his misconduct behind closed doors prompted New York Gov. Andrew Cuomo to open an "immediate investigation" into the allegations, and later caused Schneiderman to resign from his attorney general position.
President Trump predicted Schneiderman would go down long before 2018. Trump suggested in a 2013 tweet that the former New York attorney general would be next after former Rep. Anthony Weiner (D-NY) and former New York Gov. Eliot Spitzer, a Democrat, both resigned due to sex scandals.
Weiner is gone, Spitzer is gone – next will be lightweight A.G. Eric Schneiderman. Is he a crook? Wait and see, worse than Spitzer or Weiner

— Donald J. Trump (@realDonaldTrump) September 11, 2013
"Weiner is gone, Spitzer is gone—next will be lightweight A.G. Eric Schneiderman. Is he a crook? Wait and see, worse than Spitzer or Weiner," Trump tweeted in 2013.
http://feedproxy.google.com/~r/breitbart/~3/4kA2NVPvxEg/