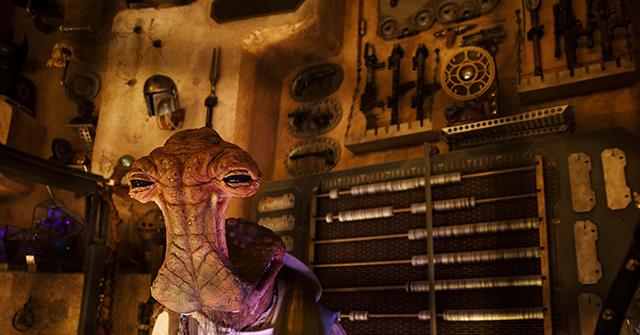 An ex-Disney worker in Florida is accused of recording an "upskirt" video of a woman at the Star-Wars themed shop where he was employed.
The incident involving the 18-year-old woman took place at the Walt Disney World Hollywood Studios. Officials eventually arrested 26-year-old Jorge Diaz Vega on March 31, Fox News reported Sunday.
An arrest affidavit said the man admitted to recording hundreds of videos up women's skirts and dresses at the location over a several year period.
"Diaz Vega told deputies he had over 500 videos on his phone, which he said he recorded as a 'guilty pleasure' for his own sexual gratification, since 'it is hard to find them online,' the affidavit states," per the Fox report.
WATCH: Theme Park Horror: China Locks Down, Temporarily Traps Guests at Shanghai Disneyland:
@5ea452220000000001002551 via Storyful
The day of his arrest, a security guard saw the suspect allegedly record a clip of the young woman who was shopping at the store known as Dok-Ondar's Den of Antiquities with her fiancé.
Visitors are encouraged to "Shop for mysterious and unique galactic artifacts collected by a legendary antiquities dealer," the store's page on the Disney website reads.
The arrest documents said once the suspect was reported, security officers told the young woman someone took a picture under her dress while she was inside the light saber shop.
After the Kissimmee resident was booked into the Orange County Jail, he was charged with third-degree felony video voyeurism which carries a punishment of up to five years behind bars, per the Associated Press (AP).
Following his arrest, the suspect was reportedly released on a $2,500 bail, the outlet said.
According to Law Insider, video voyeurism occurs when "the voyeur has the intent to capture an image of a private area of an individual without their consent, and knowingly does so under circumstances in which the individual has a reasonable expectation of privacy."
Meanwhile, Walt Disney World has reportedly confirmed that Diaz Vega is no longer an employee.
WATCH: Workers at the House of Mouse Rally! Say Happiest Place on Earth Isn't Paying Enough:
https://www.breitbart.com/entertainment/2023/04/23/ex-disney-world-employee-admits-taking-hundreds-upskirt-videos/