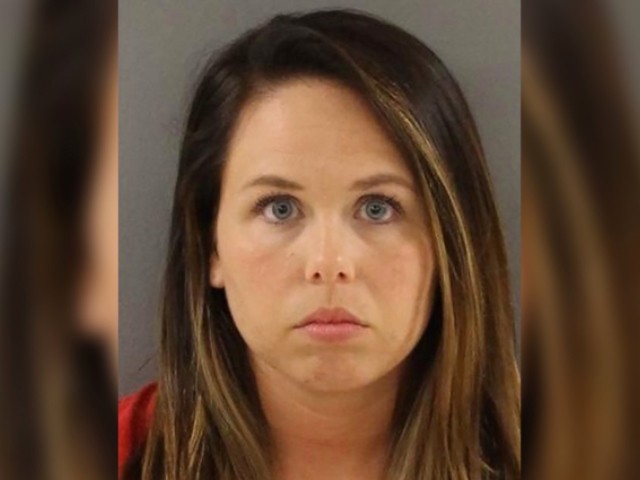 A former high school football coach's wife, who pleaded guilty to charges of having sex with a teenage student, insists that the sexual encounters with the boy were consensual and wants the teen's new lawsuit tossed on that basis.
Kelsey McCarter, 29, of Knoxville, Tennessee, plead guilty last year to six counts of statutory rape of a sophomore at South-Doyle High sophomore where her husband, Justin McCarter, was a coach. McCarter was handed a three-year prison term.
But now, according to the New York Post, the convicted assaulter wants a judge to throw out her victim's lawsuit because he says the teen engaged in the sex voluntarily.
The lawsuit filed by the teenager claims that McCarter repeatedly molested him after he and his older brother moved into the McCarters' home in 2014. The lawsuit alleges that the McCarter's were having marital problems and that Kelsey McCarter took her frustrations out on the teenager.
"[The boy] claims that he suffered injury from the repeated 'sexual abuse' by Ms. McCarter," the lawsuit says. The filing also notes that past statements allow "the conclusion that [he] was a willing participant in numerous sexual encounters with Ms. McCarter."
In the original court case, it was found that Kelsey had initiated a sexual relationship with the boy after he moved into her home in 2014. By the next year, Justin McCarter had asked the boys to move out of his house. But, the sexual encounters between Mrs. McCarter and the teen apparently continued even after the boy moved back into his mother's house.
The whole situation came crashing down after the boy began showing friends a nude photo of Kelsey McCarter. The photo eventually led to the charges filed against the woman. Justin McCarter also then resigned as the school's coach when the charges were filed in 2016.
But today Kelsey McCarter's attorney says that the boy was no victim and avidly pursued the sexual encounters with the convicted woman.
"By [the boy's] own admission in the complaint, he continued to 'submit' to the sexual contacts with Ms. McCarter because he wanted to return to live with the McCarters," McCarter's attorney, Doug Trant, wrote. "By his own admission in the complaint [the boy] desired and maintained a sexual relationship with Ms. McCarter in order to derive a personal benefit — initially to extend his stay at the McCarters' residence and then to ensure his return therein."
McCarter's lawyer said his client believed that she and the boy had a consensual relationship and that she did not force her attentions on him at all.
McCarter was convicted of having at least 11 sexual encounters with the teen and began serving her jail term in 2017. The teen's new lawsuit seeks damages of $2 million.
Follow Warner Todd Huston on Twitter @warnerthuston.
http://feedproxy.google.com/~r/breitbart/~3/hcb41ByY17Y/