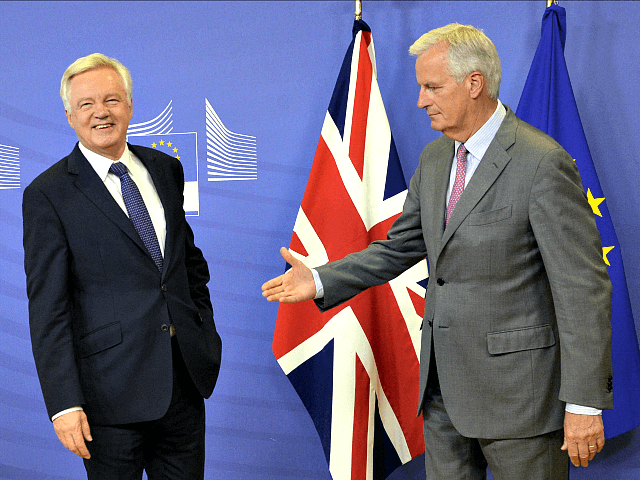 Former Brexit Secretary David Davis has said Britain should accelerate its preparations for a "No Deal" Brexit, explaining that trading with the European Union under default World Trade Organization (WTO) terms is far from a "doomsday scenario".
Writing in the Sunday Times, which backed a Leave vote in the 2016 referendum on Britain's membership of the European Union — unlike its weekday sister paper — the MP for Haltemprice and Howden said "No Deal" was not "the doomsday scenario some are trying to paint" it as, and that it would in fact come with many "unique advantages".
"Project Fear will not work because the claims are not grounded in fact," explained the former Tory leadership contender, referring to recent claims that "No Deal" could see the United Kingdom run out of drinking water and Mars bars, among other things.
"There are horrible echoes of what happened with Iraq when a different government was desperate to build cross-party support for an unpopular measure that it was struggling to get through parliament. Ministries and institutions are being misused for propaganda purposes," he warned.
At this point all the choking tentacles of the EU fall away. No customs union. No backstop. No single market. No denial of new trade deals. No money paid over. No threat to the integrity of the Union.

— David Davis (@DavidDavisMP) November 28, 2018
Taking claims that the United Kingdom could run out of food "within days" due to delays at the Port of Dover as an example, Davis pointed out that there Calais-Dover trade has "had long-term stoppages before, such as 26 days in the summer of 2015" — stoppages which Britain's membership of the European Union did not prevent.
"We know how to deal with this, for example by transferring some key trade to other cross-Channel routes such as those from Tilbury, Felixstowe and Hull," he explained — and noted that, more importantly, the French have no interested in jeopardising the lucrative trade associated with the transfer of some £300 billion in EU exports to Britain, with the most senior official in northern France and the most senior customs official for the whole country both insisting they would ensure trade could continue.
Trump's Ambassador: Britain First in Line for 'Ambitious' Trade Deal… If You Manage to Leave the EU https://t.co/3qESgb5RIC

— Breitbart London (@BreitbartLondon) November 28, 2018
Davis also highlighted the advantage of Britain being able to immediately regain control over its international trade policy and strike bilateral agreements with global partners such as the United States, which is extremely keen to get a British-American deal done.
"So, let's put an end to the dodgy dossiers and misinformation campaign," he concluded.
"It's time to seize the opportunities across the world and break free from the dead hand of EU regulation and bureaucracy as an outward-looking independent global trading nation. It's what people voted for in 2016 and it's our job to deliver on that. This country has a fabulous future and it is time that we grasped it."
Follow Jack Montgomery on Twitter:

 @JackBMontgomery
Follow Breitbart London on Facebook:

 Breitbart London
http://feedproxy.google.com/~r/breitbart/~3/9e0gZseQQd0/