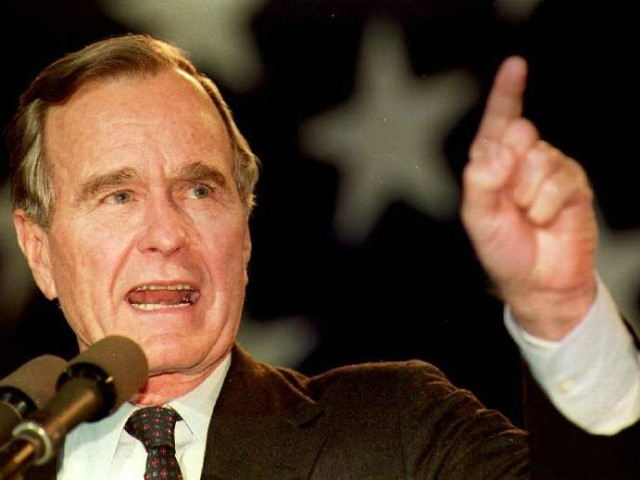 Former President George H.W. Bush is being remembered this week through a host of events commemorating the life of the man who passed away last Friday.
Family, friends, former presidents, and many more gather Wednesday at the National Cathedral for a funeral ceremony honoring the life of former President Bush. Wednesday, December 5, 2018, has been designated a national day of mourning for the former president:
Bush passed away on Friday, November 30, 2018, at 94 years of age. His body was placed Monday on the plane that serves as Air Force One to be flown to Washington, DC.
Monday evening, the former president was honored in a ceremony at the U.S. Capitol building where he lay in state through Tuesday. Senate Majority Leader Mitch McConnell, House Speaker Paul Ryan, and Vice President Mike Pence made remarks commemorating Bush's life. President Donald Trump and first lady Melania Trump paid their respects the same evening.
Wednesday morning, Bush's casket was transported from the U.S. Capitol building to the National Cathedral for the funeral. A program the Washington National Cathedral posted listed eulogists as presidential biographer Jon Meacham; former Prime Minister of Canada Brian Mulroney; former Wyoming Sen. Alan Simpson; and Bush's son, former President George W. Bush. Members of the Bush family will read scripture for the service.
Bush's body will be transported back to Texas after Wednesday's funeral, where, on Thursday, there will be a funeral service in Houston at St. Martin's Episcopal Church, according to PBS. Following the ceremony, he will be transported via train to College Station, Texas. The train will stop at Texas A&M University. He will be interred at the George H.W. Bush Presidential Library and Museum.
Michelle Moons is a White House Correspondent for Breitbart News — follow on Twitter @MichelleDiana and Facebook.
http://feedproxy.google.com/~r/breitbart/~3/W2Nl-oM3K9w/