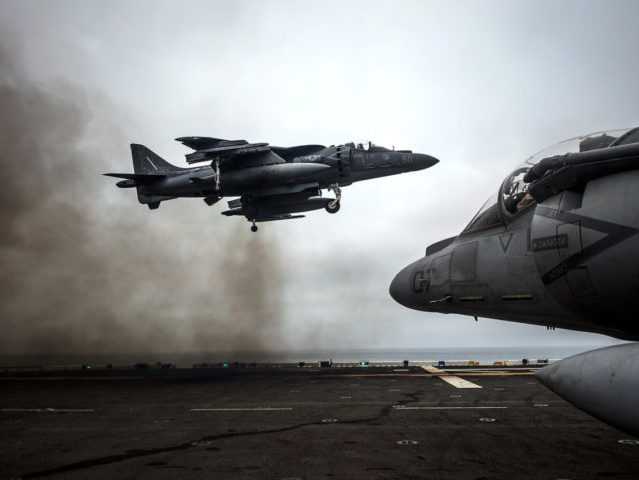 The following post is sponsored by The Committee for Responsible Foreign Policy (CRFP).
The Committee for Responsible Foreign Policy will host an event Wednesday at noon in Washington, DC, to look at the impact of war on the environment.
The event will feature Kelley Beaucar Vlahos, executive editor of The American Conservative.
"The biggest impact of war on the environment is toxic exposure and it can come in many dangerous, even lethal forms to the soldiers who fight in war and the innocent people who live in harm's way. The most unforgivable aspect is when an invading country — the U.S., for example– recklessly or even knowingly exposes soldiers and civilians to harmful toxins and then attempts to ignore or deny it afterward for fear of expensive compensation," Vlahos said in a statement.
"We can see that in the government's delayed, negligent reaction to the harm caused by 30 million gallons of Agent Orange defoliant sprayed on the ground in Vietnam, the burn pits on U.S. bases in Iraq and Afghanistan, and the depleted uranium used and left behind by U.S forces in Iraq. Generations of veterans have come home with crippling illnesses, while civilian populations suffer from birth defects and high rates of cancer according to mounting available studies. The lack of responsibility and prevention all but ensures the same mistakes will be made again and again," she said.
Vlahos has been writing for The American Conservative for the last decade, focusing on national security, foreign policy, civil liberties, and domestic politics. She served for 15 years as a Washington bureau reporter for FoxNews.com, and at WTOP News in Washington from 2013-2017 as a writer, digital editor, and social media strategist.
She has also worked as a beat reporter at Bridge News financial wire (now part of Reuters) and Homeland Security Today, and as a regular contributor at Antiwar.com.
The event will take place on Wednesday, November 14, 2018, at 12:00 p.m. at the National Indian Gaming Association Building, 224 2nd Street SE, Washington, D.C. 20003.
The Committee for Responsible Foreign Policy is a 501(c)(4) organization with the mission of pursuing a more restrained foreign policy that adheres to the Constitution. The organization aims to increase awareness of Congress' Article I responsibility to oversee war. For more information on CRFP, please visit http://responsibleforeignpolicy.org.
http://feedproxy.google.com/~r/breitbart/~3/VhP6hE55XRA/