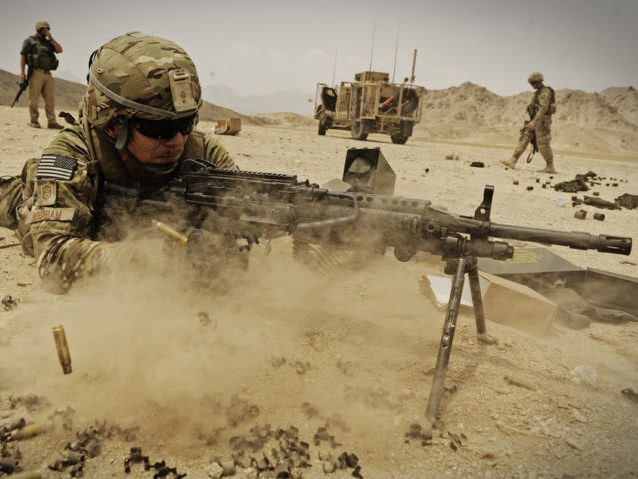 The following post is sponsored by The Committee for Responsible Foreign Policy (CRFP).
The American Conservative magazine will host an event on Thursday in Washington to assess Trump's foreign policy two years after he was elected.
"November 2018 will mark the two-year anniversary of the election of President Donald Trump. The American Conservative's fifth annual foreign-policy conference promises to be a thoughtful, provocative conversation about the president's foreign-affairs strategy—and the effectiveness of its deployment to date," according to an event press release by the magazine.
"Are we really putting "America First"? Can Congress reclaim oversight over foreign conflicts? How do our veterans view the quiet "forever war"?" it asked.
The event will feature keynote speaker Senator Rand Paul (R-KY), as well as feature lawmakers Reps. Ken Buck (R-CO) and Ro Khanna (D-CA), as well as a roster of experts and journalists.
The event will feature a discussion on Congress taking back war powers from the executive branch, and Trump administration policy on the Afghanistan War, Yemen, the Middle East, and Asia.
"Congress must reassert its Article I authority over war-making in this country," Buck said in a statement in advance of the event.
"For too long, the Executive Branch has waged war across the globe, bypassing Congress by relying on the 2001 Authorization of Use of Military Force agreement for justification. Our Constitution requires that Congress represent the will of the people when our country goes to war, not the will of only one man in the White House," he said.
The event will take place on Thursday, November 15, 2018, from 8:30 a.m. to 3:00 p.m. at the Hart Senate Office Building, 120 Constitution Ave NE, Room 902, Washington, DC 20002.
The Committee for Responsible Foreign Policy is a 501(c)(4) organization with the mission of pursuing a more restrained foreign policy that adheres to the Constitution. The organization aims to increase awareness of Congress' Article I responsibility to oversee war. For more information on CRFP, please visit http://responsibleforeignpolicy.org.
http://feedproxy.google.com/~r/breitbart/~3/5c_KmnWi8TQ/