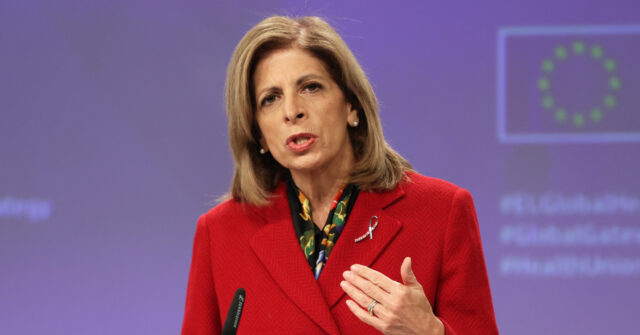 The European Commission has called for "transparency" from China regarding the origins of COVID-19 after the country blocked a WHO investigation earlier this year.
Stella Kyriakides, the European Commissioner for Health and Food Safety, has called for "transparency" from the Chinese government over the origin of COVID-19.
It comes after a World Health Organisation (WHO) investigation into the origins of the virus was mothballed due to Communist authorities refusing to comply with the agency in key areas.
Responding to a written question from an EU parliamentarian on the issue, Commissioner Kyriakides said that EU leaders were concerned that the investigation was shelved, viewing such an investigation as important for preventing another worldwide pandemic.
"The Commission agrees that it is essential to fully understand the origins of the SARS-CoV-2 pandemic, as it is crucial to prevent and prepare for similar future situations," Kyriakides wrote in her reply.
"The Commission supports the World Health Organisation efforts studying the origins of COVID-19, deeply regretting that key pieces of data necessary to reach conclusions continue to be missing," the EU bigwig continued.
"The Commission urgently calls for the necessary transparency so that ongoing investigations can produce results with the sufficient level of confidence," she went on to say, adding that the European Centre for Disease Prevention and Control is still continuing on its investigation into the origins of COVID-19.
German Publisher Kowtows to the CCP, Destroys Copies of 'China Virus' Children's Book https://t.co/aEvErRntcx

— Breitbart London (@BreitbartLondon) March 10, 2021
Such a call for "necessary transparency" is likely to irk some within the Chinese Communist Party, which in recent months has been key to distract from the idea that it may be responsible for the worldwide pandemic.
Authorities in the country have repeatedly obstructed and destroyed evidence in relation to the COVID-19 crisis, with so much evidence being left unavailable to the WHO that they have ultimately been forced into abandoning their research into the origin of the disease.
The government appears particularly concerned at recent reports indicating that some parts of the U.S. government now believe that the pandemic may well have its origin in a Chinese medical lab.
Communist authorities are now attempting to shift blame for the outbreak onto the United States, recently pushing the claim that the virus originated from a military lab in Maryland and deployed in Wuhan to make the Chinese look culpable.
"It is the U.S. who should respond to the world's questions and concerns over Fort Detrick and its military and biological labs across the world," Mao Ning, a spokeswoman for the Communist government, claimed, adding that any attempt to "discredit" China by the Americans would backfire on the country.
"Many have raised questions and concerns about U.S. bio-military bases at Fort Detrick and around the world," the same spokeswoman said at a later press briefing. "The US should work with the W.H.O. to invite experts from the world to the U.S. for origins-tracing study as soon as possible, and share the research result with the international community in a timely, open and transparent manner."
FBI Director Christopher Wray publicly confirmed that the FBI assessed that the COVID virus most likely originated from a lab. https://t.co/zQeuJFAxOi

— Breitbart News (@BreitbartNews) March 1, 2023
Follow Peter Caddle on Twitter:

@Peter_Caddle
Follow Breitbart London on Facebook:

Breitbart London
https://www.breitbart.com/europe/2023/04/21/european-commission-demands-transparency-from-china-over-covid-19-origin/