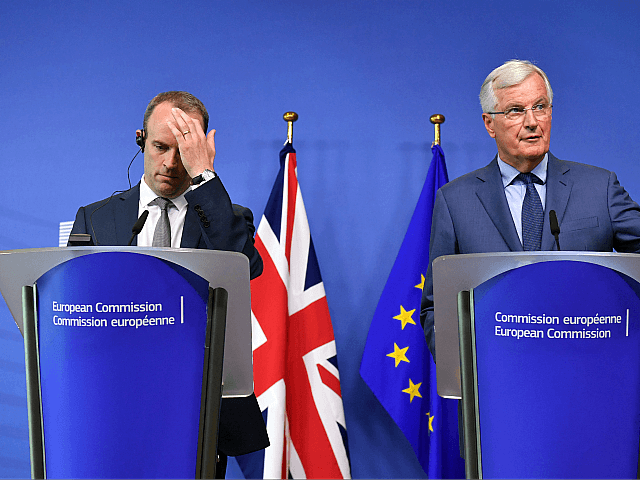 The European Union (EU) is plotting to control Britain's tax policy after Brexit and block the British from lowering rates, leaked documents have revealed.
The bloc wants the United Kingdom to keep its taxes aligned with theirs after the divorce, curtailing the departing member-state's sovereignty and stopping Britain from competing with the EU economically, the draft proposals seen by the Telegraph indicate.
Depending on the wording of any future agreement, Britain could be forced to follow any future changes to the EU's tax rates, even years after Brexit, while having no say in making those changes.
The document was reportedly drafted by the European Parliament's TAX3 secretariat following a meeting last week with the bloc's Brexit Task Force, which is led by chief Brexit negotiator Michel Barnier.
The answer must be no.https://t.co/O4VbjuS1Yp

— Jacob Rees-Mogg (@Jacob_Rees_Mogg) October 20, 2018
"The objective is that the UK will abide by the tools adopted at EU level to fight tax evasion/avoidance," it reads.
The move could block Britain from slashing taxes to boost trade and attract firms from the continent, something Brexiteers have repeatedly called for. Chancellor of the Exchequer Philip Hammond even threatened to do this if the EU was uncooperative and failed to agree a trade pact with the United Kingdom during the Brexit negotiations.
The EU has been open about its ambition to clamp down on low-tax member-states, including ­Ireland, and has long called for a universal corporation tax rate.
Prime Minister Theresa May has already made a raft of concessions to the EU, agreeing to pay Brussels tens of billions in exit fees, to allow Free Movement migration from the bloc to continue for years after Brexit, and to follow all EU-set rules on goods and agri-products.
Boris Backs Trump-Style 'Psychology' and Tax-Cuts https://t.co/tPrHt4ngfS

— Breitbart London (@BreitbartLondon) September 10, 2018
On the subject of the tax proposals, Leave Means Leave co-chairman John Longworth blasted: "These leaked documents confirm what leavers have feared all along, that the EU will stop at nothing to stifle Britain's competitiveness post-Brexit.
"An agreement on tax provisions would of course also bind us to future regulations. If they are keeping this ­secret, what else are they planning for us?
"If Chequers wasn't bad enough, it's clear Brussels are expect us to cave in further. We are now facing a complete sell-out."
Jacob Rees-Mogg, a leading Tory Brexiteer, added: "The worrying thing about this is that the EU wants more power over our taxes once we leave than when we were a member of the EU.
"This is part of a punishment Brexit and only serves to reiterate why it's so important we leave. We need to free ourselves from such an uncompetitive structure before it is too late."
Follow Breitbart London on Facebook:

 Breitbart London
http://feedproxy.google.com/~r/breitbart/~3/TPsEpXvKU-4/