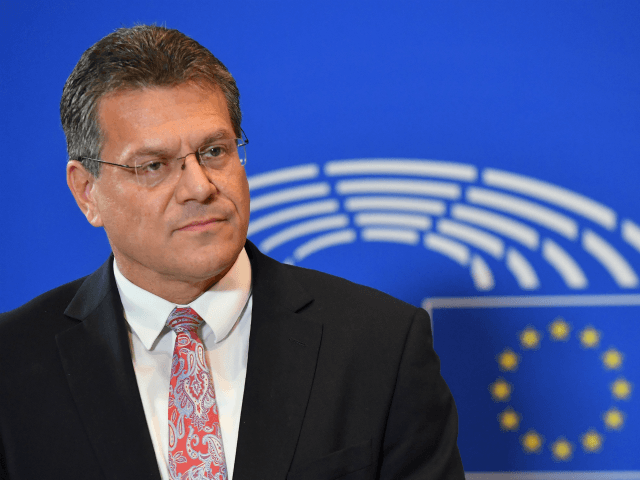 European Union Commission vice president Maros Sefcovic has claimed that he is "worried" about the anti-establishment Italian coalition government and attacked the populists saying they make "false promises".
Mr Sefcovic, who is a member of the Socialists and Democrats (S&D) EU parliamentary group, commented on the rapid rise of Italian Interior Minister Matteo Salvini and his party the League saying, "we are all worried," and that Italy should be more pro-EU, Il Giornale reports.
"I have been many times in Italy and I have always been impressed by how much this great and important European country is honestly pro-EU," Sefcovic said and added: "We have to make sure that in the future Italy will once again be the big country of the strongly pro-EU G7."
Setting his sights on the populist Italian coalition, Sefcovic attacked the League and the Five Star Movement saying both parties "play with fire to destroy our European cooperation and our European dream".
Italian Interior Minister Salvini responded to the attack saying: "Europe's umpteenth attack on Italy, the League, and the government.
"Now they are interested in us, but for years the euro-bureaucrats have ignored the requests for help of our country to stop the landings and have saddled us with 700,000 immigrants. They'd better apologise and keep quiet."
Anger After European Commissioner Blasts 'Little Mussolinis', 'Problem' Italy https://t.co/rjfJhENH3b

— Breitbart London (@BreitbartLondon) September 14, 2018
The attack is just the latest in a series of attacks from the European Union toward the Italian government over the last several weeks which have included European Commissioner responsible for the budget Günther Oettinger claiming the Italians and other populists want to "weaken" or even "destroy" the EU.
Alexander Winterstein, spokesman for the EU Commission, slammed the Italians last month after Five Star Movement leader Luigi di Maio threatened to pull Italian funding from the political bloc due to a lack of consensus on migrant policy.
"In Europe, threats are useless and do not lead anywhere. The only way to solve things in Europe is to work together constructively and with goodwill, which is what the Commission has been trying to do for some time," Winterstein said.
Follow Chris Tomlinson on Twitter at @TomlinsonCJ or email at ctomlinson(at)breitbart.com
http://feedproxy.google.com/~r/breitbart/~3/FPcDKQGV_70/