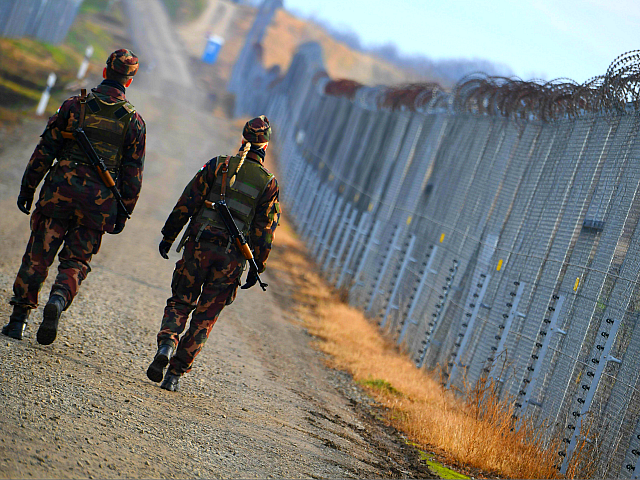 While Pope Francis demanded the tiny Baltic nations open up to mass migration Saturday, Estonia said it backs Viktor Orbán over the need to seal European borders against the third world influx.
Interior Minister of Estonia, Andres Anvelt, said border fences rolled out by the Hungarian leader, which slashed illegal immigrant numbers by more than 99 percent, were serving to protect the continent, stating that asylum seekers with no right to be in Europe must be kept out.
"I fully support [proposals asserting] that we have to address this problem outside the EU," he said in a television interview, telling state broadcaster ETV: "We have to travel to third countries and start defending our border there, yes, and in defending our European values start establishing refugee camps as well."
During an appearance on Studio 1 Thursday, the minister said Orbán "was definitely defending [Europe]" in his construction of fences along the EU's external borders, adding: "We are doing the exact same thing."
Pope Francis Stresses Anti-Populist Message in Trip to Lithuania https://t.co/UlIl6bNiK6

— Breitbart London (@BreitbartLondon) September 23, 2018
Anvelt pointed to the situation regarding this summer's World Cup tournament in Russia, which shares a border with Estonia, noting thousands of ticket holders for the event who travelled from third world nations have reportedly since made their way to Europe.
"Russia itself officially said for the first time that they have lost at least 10,000 people," Estonian Public Broadcasting reported the minister saying. "These were the exact same economic migrants from Bangladesh, [from] somewhere in Senegal and so on that were moving toward Europe."
Asked whether the nation of just 1.3 million people favours a Hungarian-approach to immigration, with regards to keeping illegal immigrants out with border fences, he said: "To defend our country, certainly."
Stating one policy difference, however, the Social Democratic Party of Estonia (SDE) politician highlighted his government's participation "out of solidarity", in the EU quota scheme which shares third world migrants arriving in Europe out across the bloc's member states.
Macron Vows Punishment for States Refusing Third World Migration https://t.co/Xdld7ZPdLt

— Breitbart London (@BreitbartLondon) September 21, 2018
"We understand that for the EU to endure, what is the most important foundation? The Schengen Area. If there is no freedom of movement, the average person will no longer understand what the EU is needed for," he argued.
"We need solidarity for the Schengen Area to endure," Anvelt added, stating that with its agreement to welcome 40 third world migrants a year, Estonia is making a contribution to so-called solidarity consistent with its size.
The minister's weigh-in on the EU migrant crisis came as Pope Francis kicked off a Baltic tour of Lithuania, Latvia, and Estonia Saturday with a speech claiming the region's history dictates that the sparsely populated area of Europe has a duty to welcome infinite numbers of Muslim migrants.
As the church reels from abuse scandals, which traditionalists have blamed on a "homosexual subculture" encouraged by LGBT lobbyists working within the church, the liberal pontiff — who has attacked complainants in the crisis, while comparing accused pastors to Jesus — told Lithuanians in his anti-populism speech that their nation had essentially served as a large refugee camp, giving "shelter … [to] peoples" of all "ethnic groups and religions "throughout its history".
Migrants Resettled in Low-Benefits Lithuania Feel 'Cheated', Flee to Richer EU Countries https://t.co/bh841FB2fC pic.twitter.com/UKqNFhsCd9

— Breitbart London (@BreitbartLondon) October 5, 2016
http://feedproxy.google.com/~r/breitbart/~3/3Nhn0mv1UDA/