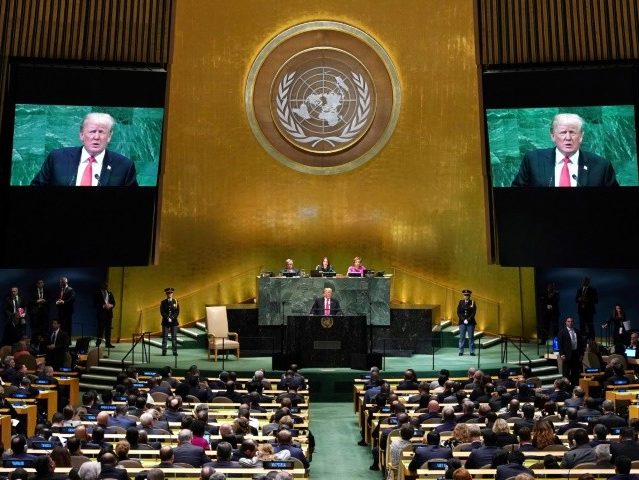 During President Trump's speech in front of the United Nations (U.N.) on Tuesday, some audience members from other nations laughed at the president, leading many members of the establishment media to celebrate the laughter.
"In less than two years, my administration has accomplished more than almost any administration in the history of our country, Trump said. "America–it's so true."
At this point, some murmurs of laughter can be heard in the crowd. Trump then joked, "Didn't expect that reaction, but that's okay," and continued with his speech.
Trump bragged about his presidency at #UNGA and world leaders laughed.

"I didn't expect that reaction, but that's okay": https://t.co/6gF9x6uE6o pic.twitter.com/nX88GMFikQ

— POLITICO (@politico) September 25, 2018
The scene of members of the U.N., many of whom depend on the United States for protection and preservation of the world order, laughing at America, is in many ways pathetic.
And yet, this moment at the U.N. was apparently too much for many in the media to handle.
Washington Post reporter and NBC News analyst Philip Rucker tweeted, "Trump has long attacked Obama by claiming that the world was laughing at his leadership. Today, world leaders at the UN laughed at Trump's claim that his administration has accomplished more than any in US history":
Trump has long attacked Obama by claiming that the world was laughing at his leadership.

Today, world leaders at the UN laughed at Trump's claim that his administration has accomplished more than any in US history.

— Philip Rucker (@PhilipRucker) September 25, 2018
"So it seems like world leaders at the United Nations just laughed at – not with – our American President in the first minute of his speech, when he repeated his rally line about his administration having accomplished more than almost any other in our history. This is not good," CNN political analyst John Avlon tweeted:
So it seems like world leaders at the United Nations just laughed at – not with – our American President in the first minute of his speech, when he repeated his rally line about his administration having accomplished more than almost any other in our history.

This is not good.

— John Avlon (@JohnAvlon) September 25, 2018
MSNBC analyst Matthew Miller tweeted, "I can't believe this isn't an exaggeration, but the world is now literally laughing at us":
I can't believe this isn't an exaggeration, but the world is now literally laughing at us. https://t.co/SK3iECjN6z

— Matthew Miller (@matthewamiller) September 25, 2018
NBC News contributor Frank Figliuzzi tweeted:
Laughing stock: https://t.co/REty18b0ZV

— Frank Figliuzzi (@FrankFigliuzzi1) September 25, 2018
Check out all the media rhetoric:
Trump has repeatedly claimed that "the world is laughing at the United States" https://t.co/JWHmeZSnpM

— Brian Stelter (@brianstelter) September 25, 2018
It's a literal rendition of his line that "the world is laughing at us."

— Maggie Haberman (@maggieNYT) September 25, 2018
He is a joke. That's why they're laughing at him. https://t.co/oZL66mqNFQ

— Paul Begala (@PaulBegala) September 25, 2018
Trump couldn't get through 1 minute of his UN speech without the General Assembly laughing at him https://t.co/h086VQYZ3w pic.twitter.com/Mep17LVjaq

— Evan Rosenfeld (@Evan_Rosenfeld) September 25, 2018
Cannot remember another official speech at which Trump was literally laughed at, let alone a forum as prominent as this one. https://t.co/VQ0iiNoNpe

— Daniel Dale (@ddale8) September 25, 2018
OMG- the world leaders LITERALLY just laughed at Trump when he bragged in his UN speech that he has achieved more in two years than any past President. The world is LITERALLY laughing at the US thanks to Trump. https://t.co/lqyTj3oZbe

— (((DeanObeidallah))) (@DeanObeidallah) September 25, 2018
The UN just laughed at Trump. WW3 starts within 48 hours.

— John Iadarola (@johniadarola) September 25, 2018
The only thing that will be remembered about Trump's 2nd UN address, which basically repeated the nationalist themes of the first, is that this time, the world laughed at him.

— Jackson Diehl (@JacksonDiehl) September 25, 2018
http://feedproxy.google.com/~r/breitbart/~3/dUBC_QcegF4/