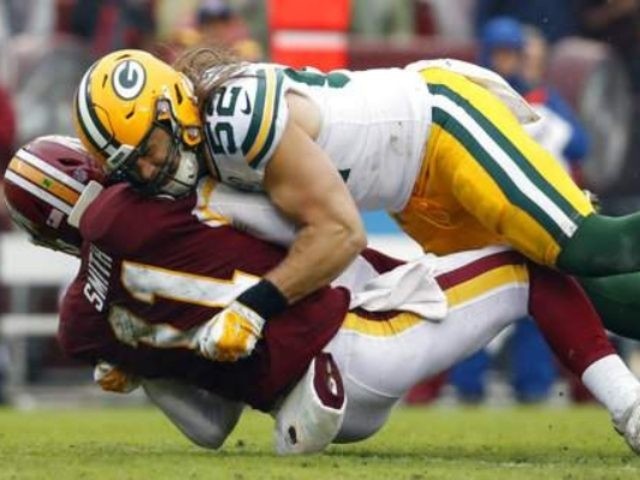 ESPN commentator Jason Witten is taking slings and arrows from the PC left after his proclamation that the NFL is going "a little bit to the left wing" with the surge of roughing the passer calls.
With a number of questionable calls riling the league and its fans, Witten disparaged the calls as an effort to take the stuffing out of professional football.
During ESPN's Monday Night Football broadcast, Witten gave his take on the debate over the plethora of roughing calls.
"It's just gone too far with that rule," Witten said. "I knew they were going to make it about the health and safety and protect these quarterbacks. It just seems like we just went a little bit to the left wing on that with our approach on trying to protect it. Because, as we said, not only are the players frustrated but the coaches. They don't know how to coach this. That's when you have a challenge with this rule."
ESPN's @JasonWitten says the NFL has gone too "left wing" with roughing the passer penalties. pic.twitter.com/pGJRcHZze9

— Rob Tornoe (@RobTornoe) September 25, 2018
As Sports Day noted, the Cowboys were hit with such a call on Sunday when the Cowboys' Tyrone Crawford was flagged for tackling Seahawks quarterback Russell Wilson. Officials ruled that Crawford put his body weight on Wilson as they hit. But afterward, Crawford said the rules would not change how he plays.
"I'm going to hit the quarterback the way I've always hit him," Crawford said. "If they're trying to take that much away from us, it is what it is, man. I'm going to hit like that regardless."
Cowboys Owner Jerry Jones chimed in to insist that Crawford did not commit any violation of the rules. "That just was not roughing the passer," he said.
FOX analyst and former Cowboys quarterback Troy Aikman also slammed the call saying that Crawford's play would have been "a textbook play in most years."
"This year, for some reason, whatever reason, it's a penalty and Seattle keeps the ball," Aikman added.
Follow Warner Todd Huston on Twitter @warnerthuston.
http://feedproxy.google.com/~r/breitbart/~3/oA344ks7J-c/