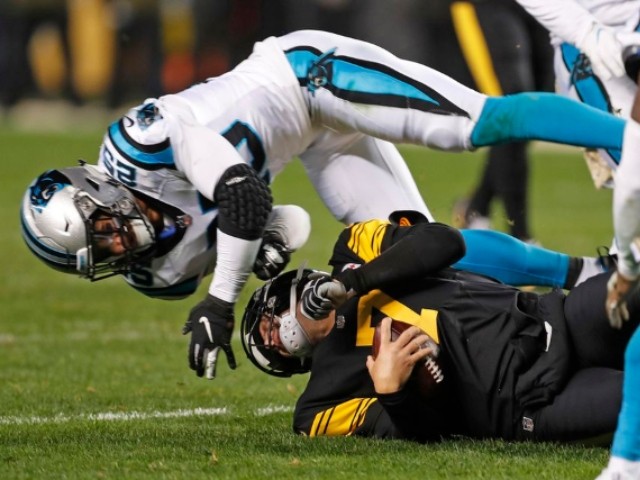 Carolina safety Eric Reid, one of the NFL's last remaining anthem-kneelers, was ejected from Thursday night's Steelers win over the Panthers for an illegal hit to the head of Pittsburgh QB Ben Roethlisberger.
In the third quarter of Pittsburgh's 52-21 route of the Panthers, Roethlisberger was scrambling for a first down, slid at the end of the run, and Reid dove at the QB, leading to an illegal shoulder-to-helmet hit.
Reid didn't know you could get ejected from NFL games.
"I didn't even know you could be ejected in the NFL," Reid said after the game. "It was a bang-bang play. I was trying to do my job. I understand the NFL is trying to protect the quarterback, but when they run the ball, they're a running back. There's a guy running the ball, so I'm doing my job."
Al Riveron, the NFL's Senior Vice President of Officiating, explained on Twitter why Reid was ejected.
"Panthers Eric Reid was ejected for unnecessary roughness for forcible contact to the head and neck area of a sliding quarterback in #CARvsPIT," Riveron wrote:
"@Panthers Eric Reid was ejected for unnecessary roughness for forcible contact to the head and neck area of a sliding quarterback in #CARvsPIT." – AL pic.twitter.com/1MbDzjkrLK

— NFL Officiating (@NFLOfficiating) November 9, 2018
Panthers coach Ron Rivera doesn't think Reid should've been ejected.
"I really don't," Rivera said after the game. "I don't think he hit him hard enough to eject him."
After Reid's hit to Roethlisberger's head, Steelers offensive guard David DeCastro went after Reid and had to be restrained.
Reid apologized to Roethlisberger for the hit.
And perhaps he should apologize to teammates for how he played.
Aside from his ejection for the illegal hit which left them short-handed, he struggled in pass coverage (along with other Panther defensive backs), in a game that Roethlisberger threw five touchdowns and had a perfect 158.3 QB rating.
On the Steelers' first score, a 75-yard pass to wide receiver JuJu Smith-Schuster, Reid was late coming over to provide safety help to cornerback James Bradberry. He was also late to the scene on a 12-yard TD pass to tight end Vance McDonald.
Reid is considered a very good "box safety" as they say in the scouting world. This means he's excels in run support and as a tackler, but struggles in space covering fast targets.
In the recent Panthers' loss to the Redskins, Reid was beat by Washington tight end Vernon Davis for 22-yard TD over the middle.
Reid, whose been kneeling during the National Anthem the last three seasons to protest police brutality and social injustice, was signed by the Panthers on September 28 after they lost starting safety Da'Norris Searcy to a concussion.
In May, Reid filed a grievance against the NFL, alleging that team and the league colluded to prevent his employment due to his protests. Unemployed QB Colin Kaepernick, who started the anthem protest movement in the summer of 2016, filed a similar grievance. Reid didn't drop the grievance after the Panthers signed him.
Some were surprised the Panthers, who represent two red states, North and South Carolina, signed Reid, since it might turn off some fans.
On Thursday, Panthers new owner David Tepper, a hedge-fund billionaire, commented for the first time on why the team signed Reid.
"What did I say when I first came here?" Tepper said in his hometown of Pittsburgh after the game. "I said the first thing I want to do is? Win. What was the second thing I said I wanted to do? That was also win. What was the third thing I wanted to do? Enough said."
But Reid certainly didn't help the Panthers win Thursday night.
http://feedproxy.google.com/~r/breitbart/~3/TdkvqGdUOX4/