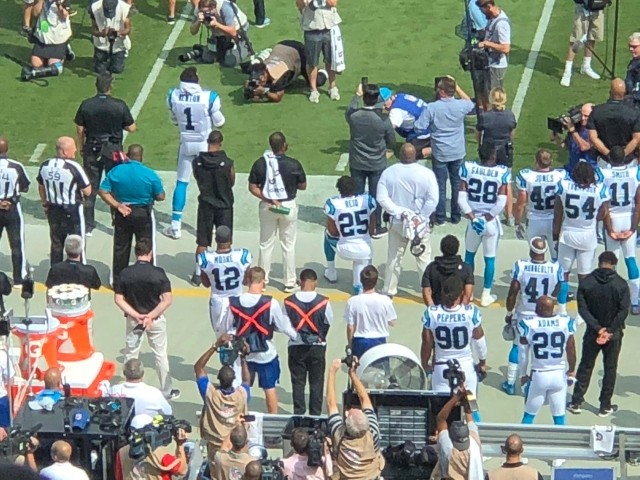 Former 49er Eric Reid was the first player to join Colin Kaepernick in his anthem protests, during the 2016 season. After a long layoff, many wondered whether Reid would continue those protests in his debut with the Carolina Panthers.
Well, on Sunday afternoon, we got our answer.
In his first appearance with his new franchise, Eric Reid took a knee during the playing of the national anthem:
Eric Reid kneels during national anthem … @FOX46News pic.twitter.com/abGCD5DIiP

— Josh Sims (@JoshFox46) October 7, 2018
According to SB Nation:
In March, the former 49ers safety became a free agent and when he was unable to find a new team, he followed Kaepernick's lead and filed a collusion lawsuit against the NFL, which is still ongoing. Reid had been the best available safety on the open market, until the Panthers signed him at the end of September.

In his first press conference with the Panthers, Reid said the Panthers did not ask him if he would protest before signing him. He also said hadn't made up his mind on if he would demonstrate before the game or not.

'I said that I would be considering other ways, and I'm still considering,' Reid said. 'I'm still evaluating the scope of our country.'
Apparently, Reid found those "other ways" unappealing.
Follow Dylan Gwinn on Twitter @themightygwinn
http://feedproxy.google.com/~r/breitbart/~3/GnK02C9_H50/