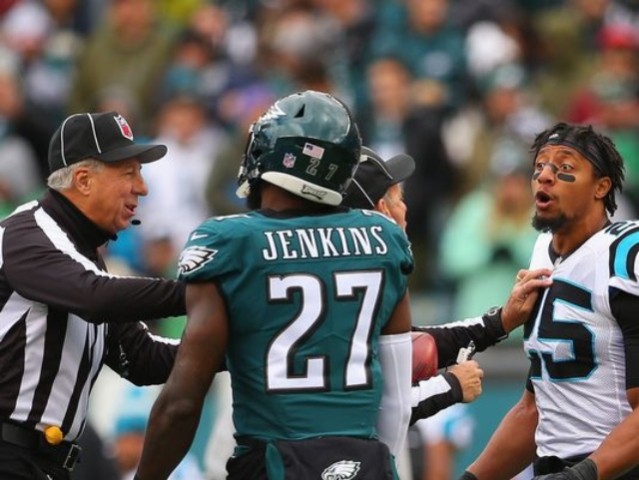 As Sunday's game between the Carolina Panthers and the Philadelphia Eagles began, a fight of another kind rose between fellow national anthem protesters Eric Reid and Malcolm Jenkins. Reid called  Jenkins a "sellout" and a "neo colonialist," for working with the league on social justice issues.
The two players, who spent 2016 and 2017 protesting against the United States during the national anthem, nearly came to blows Sunday as they prepared to take the field against each other, according to Fox News.
#Eagles Malcolm Jenkins and #Panthers Eric Reid had confrontation after the coin toss before the game started.

Reid had major concerns with Malcolm Jenkins' Players Coalition that raised nearly $100 million to causes considered important to African-American communities. pic.twitter.com/qBsfDr4yLi

— Dov Kleiman (@NFL_DovKleiman) October 21, 2018
Reid called Jenkins a "sell out" and a "neo-colonialist" for working with the league to put an end to the anthem protests. In 2017, Jenkins helped lead a group of players to induce the NFL to spend nearly $90 million on "social justice" issues as an exchange for having the players cease their TV ratings-killing protests.
But Reid was not a fan of the deal especially since he and anthem protest inventor Colin Kaepernick were not part of the negotiation team.
"We believe a lot of players should have stepped up for Colin," Reid said in a post-game interview. "I believe Malcolm capitalized on the situation. He co-opted the movement that was started by Colin to get his organization funded. It's cowardly. He sold us out."
Eric Reid calls Malcolm Jenkins a "sellout" and a "neo-colonialist." pic.twitter.com/uQfhz6o7FF

— Bo Wulf (@Bo_Wulf) October 21, 2018
For his part, Jenkins refused to join in with any attacks back on Reid. Jenkins said only he did not want to "say anything negative about that man."
Follow Warner Todd Huston on Twitter @warnerthuston.
http://feedproxy.google.com/~r/breitbart/~3/tTaMHWmHlUQ/