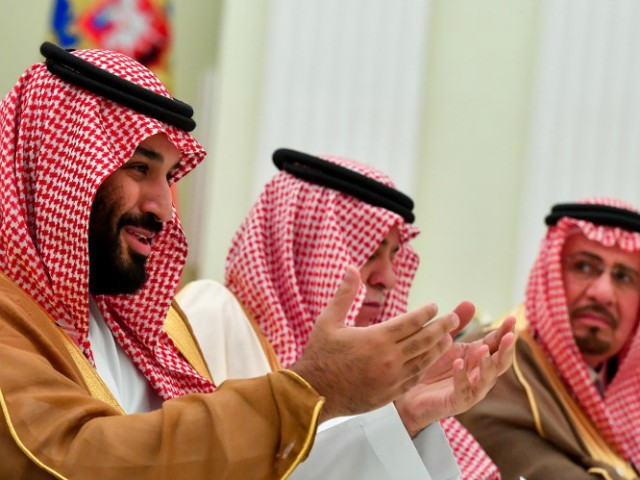 An adviser to Turkish President Recep Tayyip Erdogan wrote an opinion article Wednesday declaring that Saudi Crown Prince Mohammed Bin Salman (MBS) has "blood on his hands" for the death of Saudi journalist Jamal Khashoggi, Reuters reported.
Ilnur Cevik serves as an adviser to President Erdogan, Reuters noted, "but not a prominent one." His opinion pieces in Turkish media are far from the only ones accusing MBS of personally ordering Khashoggi's killing, however. Among the most outrageous conspiracies Turkish media have published is that the United States had a hand in aiding the Saudis with eliminating dissenting voices like Khashoggi's.
The government of Saudi Arabia announced that Khashoggi died in an altercation at the Saudi consulate in Istanbul on Friday. The Saudis contend that Khashoggi attacked 18 men at the consulate and prompted a violent exchange that ended in his death but that the government had no intention of attacking or killing him at the time.
In a speech Tuesday, Erdogan announced that Turkish investigations had revealed evidence that the Saudi government had planned to kill Khashoggi, a U.S. resident who traveled to the consulate for marriage paperwork. Erdogan was careful not to mention MBS, considered the country's de facto ruler and head of state intelligence.
In a column published by the newspaper Yeni Birlik, Cevik called Khashoggi's death a "disgrace that reaches all the way to Crown Prince Salman. At least five members of the execution team are Salman's right hands and are people that wouldn't act without his knowledge."
"Even if U.S. President Trump saves Salman, in the eyes of the world he is a questionable person with Khashoggi's blood on his hands," he continued.
A column by Cevik also appeared in the pro-Erdogan Sabah newspaper Wednesday, which predicted that "the Khashoggi murder will linger like a curse, which will haunt Mohammed bin Salman throughout his journey to become the new king of Saudi Arabia."
"No one was convinced by the story the Saudis were trying to sell to the world and as the massive investigation into the case deepened, they realized their flawed tale would not stand up to scrutiny," Cevik argued. "It is a futile gesture trying to distance the crown prince from the monstrous atrocity that has been committed by the Saudis at their consulate in Istanbul."
While Reuters questions Cevik's influence, his remarks echo similar opinions throughout Turkish media. The pro-Erdogan newspaper, Yeni Safak, which has featured some of the most lurid anonymous "exclusives" on the Khashoggi case, has repeatedly accused MBS personally of ordering Khashoggi's killing.
The editor-in-chief of Yeni Safak, Ibrahim Karagül, published a column Tuesday going further than Celik, blaming U.S. intelligence in part for Khashoggi's death.
"Regardless of what anybody says, the murder of Saudi journalist Jamal Khashoggi was committed upon the direct instruction from Saudi Arabia's Crown Prince Mohammed bin Salman," the column begins. "The incident was carried out with the knowledge of the U.S. intelligence and, as a matter of fact, with their involvement."
Karagül goes on to argue that "a lot more people were going to be eliminated in this way," but thanks to the magnificent work of Erdogan's police forces, the Saudi government will be unable to continue this method.
Karagül does not mention the tens of thousands of uncorroborated charges against Turkish citizens for allegedly supporting Islamic cleric Fethullah Gülen, who Erdogan's government considers a terrorist leader. Washington has repeatedly insisted that Ankara has not provided sufficient evidence that Gülen is involved in terrorist activity, specifically the July 15, 2016, failed coup against Erdogan.
Following up his speech Tuesday, Erdogan himself made additional remarks Wednesday vowing to ensure justice for Khashoggi.
"We are determined not to allow a cover-up of this murder and to make sure all those responsible – from those who ordered it to those who carried it out – will not be allowed to avoid justice," he said in Ankara.
In his Istanbul remarks a day before, Erdogan made clear he believed those responsible to be members of the Saudi government.
"It is clear that this savage murder did not happen instantly but was planned," he said. "Why was a team of 15 Saudi men, all with qualifications related to the incident, gathering in Istanbul on the day of the murder? We are seeking answers to this question."
He added that blaming rogue operators "would satisfy neither us nor the international community. We could be satisfied only if everyone, from the one giving the order to the one who carried it out, are called to account."
President Donald Trump, who told reporters last week that MBS personally denied involvement in the killing to him, has refused to speculate on who is responsible for what happened to Khashoggi.
In remarks Tuesday, Trump called the killing "the worst cover-up ever."
"Whoever thought of that idea, I think is in big trouble. And they should be in big trouble," he said. "In terms of what we ultimately do, I'm going to leave it very much — in conjunction with me — I'm going to leave it up to Congress."
Washington is heavily involved in cooperating with Turkey to help solve the case. CIA Director Gina Haspel is in Turkey currently working with counterparts there. Secretary of State Mike Pompeo visited recently to discuss the matter with Turkish diplomats.
Follow Frances Martel on Facebook and Twitter.
http://feedproxy.google.com/~r/breitbart/~3/QhQcKW-2O3c/