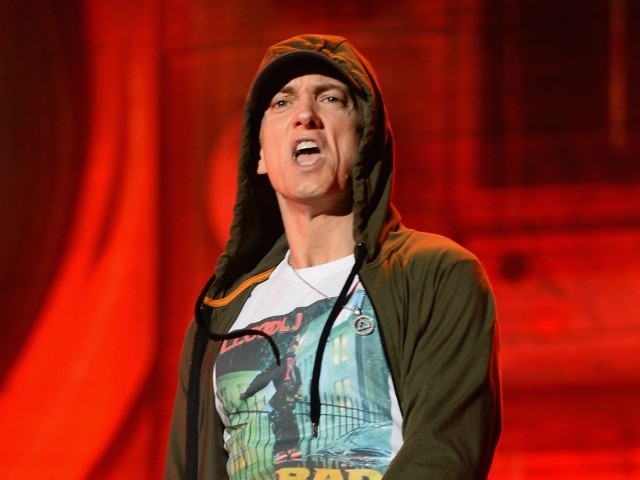 Rapper Eminem defended NFL anthem kneelers and Nike's ad campaign starring Colin Kaepernick, referring to critics as "fucking moron[s]" in a new interview with hip-hop radio host Sway Calloway.
"It's infuriating. Infuriating. Like really?" Eminem said when asked about people burning their Nike gear over their decision to feature Kaepernick in their new "Just Do It" advertising campaign.
"Nike supports people who kneel for the anthem. At this fucking point, come on — seriously? Seriously? You gotta be a fucking moron to think that's just what it's about and it's that fucking cut and dry," Eminem said. "You know what I'm saying? Like, there's a meaning behind this shit and there's real pain behind this shit."
"And you're burning a fucking pair of shoes? When you go about your fucking day and you got your job and you're thinking of all this other shit, tha''s what really fucking bothers you?" the Gammy-winner fumed.
The 45-year-old rapper also said that he started getting inspired to write last years' anti-Trump freestyle after the president criticized kneeling NFL players.
"I was just watching it every single day. I watch a lot of news. The thing that pissed me off the most and when I started going crazy with the pen was the Kaepernick thing and when that shit happened and how [Trump] kept changing the narrative," he said, also stating how he wanted to be "on the right side of history."
In last fall's anti-Trump freestyle, Eminem said that his fans should choose between him and Trump.
"And any fan of mine who's a supporter of his, I'm drawing in the sand a line, you're either for or against, and if you can't decide who you like more and you're split on who you should stand beside, I'll do it for it for you with this. Fuck you," he rapped.
The 8 Mile star also glorified Colin Kaepernick, leading to a public acknowledgment from the former NFL player.
I appreciate you @Eminem ✊🏾 pic.twitter.com/nwavBwsOkQ

— Colin Kaepernick (@Kaepernick7) October 11, 2017
In his recently released album Kamikaze, Eminem continued to go after Trump, calling him an "evil serpent."
This follows his last album Revival, where he rapped about white privilege.
"It like we're drifting back into the 60s. Having black-skin is risky, 'cause this keeps happening. Throughout history, African-American's have been treated like shit. And I admit, there have been times where it's been embarrassing to be a white boy," he said.