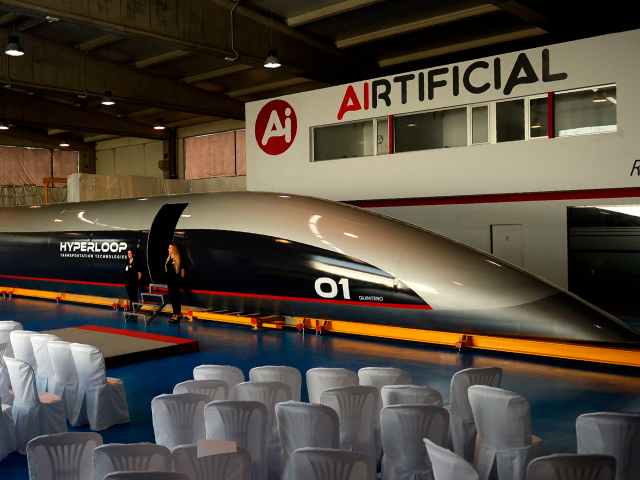 Elon Musk's company Hyperloop has revealed its new "passenger capsule" to be used as part of an underground transport system in Los Angeles and other major cities.
USA Today reports that Elon Musk's company Hyperloop Transportation Technologies revealed its new "passenger capsule" recently, capable of holding between 30 and 40 passengers. During the reveal of the new capsule in Spain, HyperloopTT CEO Dirk Ahlborn said that the transportation system was "the real deal." The capsule will next be sent to Toulouse, France for testing as the company prepares to build its first Hyperloop systems in China and Abu Dhabi.
Ahlborn stated that he hopes one day that the passenger capsule will be able to travel more than 400 miles from Los Angeles to San Francisco in 36 minutes, levitating along a magnetic track the entire way with little to no friction to slow the system down. Ahlborn stated that there must be a great level of belief and optimism from those involved in order to make the Hyperloop a reality: "We realized it has to be more than a company. It has to be a movement," Ahlborn said. "You have the whole world talking hyperloop."
The passenger capsule is approximately 105 feet long and is constructed out of 82 carbon fiber panels held together with 75,000 rivets. The front of the capsule is pointed and sleek while the back of it looks similar to a regular train car. Ahlborn said that 100 capsules would be needed to operate a Hyperloop line from Los Angeles to San Francisco, with capsules departing 45 seconds apart up to speeds of 750 miles per hour, but Ahlborn stated that "realistically" the capsules would operate at lower speeds.
Musk discussed the plans that Hyperloop and his other company The Boring Company have to build a Hyperloop under Los Angeles to the Dodgers stadium in a recent interview with Joe Rogan. Musk stated" "I have this, it's sort of a hobby company, called the Boring Company, which started out as a joke. And we decided to make it real, and dig a tunnel under L.A. And then other people asked us to build tunnels, so we said yes in a few cases."
Musk stated: "We've dug about a mile. It's quite long. It takes a long time to walk it," he continued "I'm not saying it's going to be successful. It's not, like, asserting it's going to be successful. But so far I've lived in LA for 16 years, and the traffic has always been terrible. And so I don't see any other ideas for improving the traffic. So in desperation, we are going to build a tunnel, and maybe that tunnel will be successful. And maybe it won't. I'm not trying to convince you it's going to work. Or anyone."
Musk also clarified why he chose to dig the tunnel in Los Angeles: "It's in L.A. because I mostly live in L.A. That's the reason. It's a terrible place to dig tunnels."
Lucas Nolan is a reporter for Breitbart News covering issues of free speech and online censorship. Follow him on Twitter @LucasNolan or email him at lnolan@breitbart.com
http://feedproxy.google.com/~r/breitbart/~3/at_V9N-i7a8/