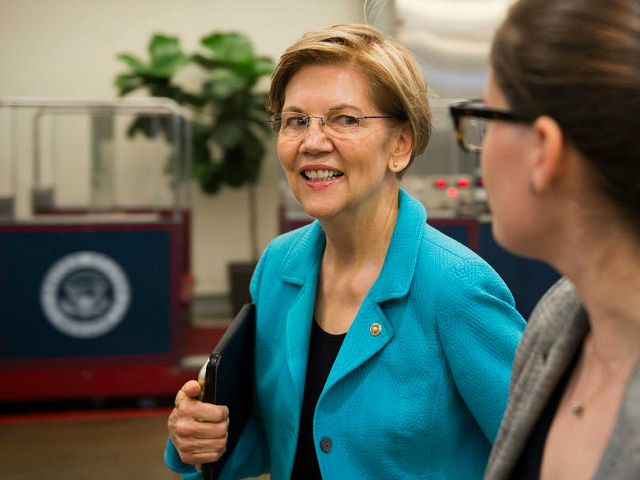 Just six months after declaring she would not run for president in 2020, Sen. Elizabeth Warren (D-MA) has reversed course.
Warren's change of mind comes after she and her campaign team have spent much of 2018 trying to spin her false claims of Native American ancestry.
In a tweet late Saturday, when asked about running in 2020, she said, "after November 6, I'll take a hard look at it":
It's time for women to go to Washington & fix our broken gov't. That includes a woman at the top. Today at a town hall in Holyoke, Marty, a Springfield teacher, asked where things stand with me running for President in 2020. I told him: after Nov 6th, I'll take a hard look at it. pic.twitter.com/JBRPMFsERf

— Elizabeth Warren (@elizabethforma) September 29, 2018
In March of this year, Warren definitively ruled out a run for president in 2020 in an interview with CNN.
"I am not running for president in 2020," she told Jim Acosta of CNN on March 10.
"I am not running for president," she told Chuck Todd on NBC's Meet the Press later that same day
Since that now-abandoned declaration, the former professor at Harvard Law School has easily won the Democratic primary to run for a second term as United States Senator from Massachusetts, a race which all polls indicate she will easily win in November. She has also launched a media aided reputation-revision effort to "re-frame" her false claims of Native American ancestry.
Warren's spin is that (a.) her claims of Native American ancestry are not false because they are "family lore," and (b.) she did not use those false claims to advance her professional career in the 1980s and 1990s.
Neither spin is accurate.
As Breitbart News has documented extensively since 2012, Warren first made her false claims of Native American ancestry in 1984, "when she described herself as 'Elizabeth Warren, Cherokee' in several recipes, two of which — 'Cold Omelets with Crab Meat' and 'Crab with Tomato Mayonnaise Dressing' — were apparently plagiarized from a 1979 article 'written by Pierre Franey of the New York Times News Service,' which she contributed to the cookbook, Pow Wow Chow: A Collection of Recipes from Families of the Five Civilized Tribes: Cherokee, Chickasaw, Choctaw, Creek & Seminole."
She repeated her false claim of Native American ancestry professionally in 1986, as Breitbart News reported, when she claimed in the Association of American Law Schools directory of law school professors that she had minority status. She continued to make that claim annually in that directory until 1995.
Warren was a professor at the University of Texas Law School at the time. One year later, in 1987, she was hired as a professor at the University of Pennsylvania Law School.
Two years later, in 1989, "she authorize[d] the university to change her personnel designation from white to Native American, the records show," the Boston Globe reported.
Warren's false assertion of Native American ancestry was almost certainly included in the comprehensive application package considered by Harvard Law School when it offered, and she accepted, a one-year position as a visiting professor in the 1992-1993 academic year. The school considered her for a full-time tenured position, a position she was offered in February 1993 after the full Harvard Law School faculty discussed and accepted the recommendation of the school's Appointments Committee to make such an offer, but Warren declined in 1993 and subsequently accepted in 1995, Breitbart News reported.
"In an exclusive interview with Breitbart News, former Harvard Law School Dean Robert C. Clark, the man behind the decision to recruit Elizabeth Warren as a visiting professor and subsequently as a tenured professor, has described the circumstances that led Harvard to offer Warren a permanent position in February 1993," Breitbart News reported in May 2012:
Dean Clark stated that, to the best of his recollection, when the full time tenure offer was made to Warren in February 1993, he was unaware of her Native American ancestry claims. He became aware of them during the two year period subsequent to that offer, and prior to her February 1995 acceptance of the offer. . .

Clark was under terrific political pressure in a very nasty environment to hire more minorities and women to the Harvard Law School faculty that year. On the job for only three years, he had inherited a very ugly situation that quickly escalated into the Derrick Bell controversies. John Sedgwick wrote an article in the February 1993 edition of Esquire magazine, aptly titled "Beirut on the Charles," that captured the angry divisions within the Law School at that time. The Harvard Crimson reported on February 8, 1993 that the Esquire article "said political tensions on campus had 'pitted faculty members against faculty members, faculty members against students' and had seen students 'waging holy war on one another… [The Law School] is a remarkably gnarled place, with only shades of meaning. It was very difficult for me to ascertain facts,' Sedgwick said."

In such a highly politicized environment where "diversity" was the match that could ignite the dry kindling of campus tension at any time, Clark was eager to recruit Elizabeth Warren. If Harvard Law School hired her on a full time tenured basis, it would help solve the pressing political problem that was tearing the school apart: anger directed at the faculty from a very loud and aggressive group of radicalized students demanding more faculty diversity.
In May 2012, Breitbart News documented three other reports published in the 1990s in which Elizabeth Warren was described as a "woman of color."
Warren, now running for the Democratic nomination for U.S. Senate in Massachusetts, told Politico as recently as May 15 that she had "no idea" why a Harvard Law School spokesman called her a "woman of color" in a 1996 Harvard Crimson article and a 1997 Fordham Law Review article. However, a 1993 issue of the Harvard Women's Law Journal suggests that she knew very well indeed.

An article, "Women of Color in Legal Academia: A Biographic and Bibliographic Guide," which was published by the Harvard Women's Law Journal (since renamed the Harvard Journal of Law and Gender) in its Spring 1993 edition (Volume 16), lists Warren as one of approximately 250 "women of color" in legal academia.
Not once since her original assertion of Native American ancestry in 1984 has Warren provided a single piece of documentary or genetic evidence to support her assertion. Breitbart News first documented the lack of any corroborating evidence in 2012.
The only evidence Warren offers to support her claim is "family lore."
Warren's propaganda blitz to justify her decades-old false claim of Native American ancestry began anew this February when she spoke to the National Congress of American Indians, in Washington, DC, Breitbart News reported:
"My mother's family was part Native American," she said in a speech to the National Congress of American Indians Tribal Nations Policy Summit in Washington, D.C, on Wednesday, according to prepared text provided to the Boston Globe.
On September 12, the Boston Globe published a story which William Jacobson, writing at Legal Insurrection, described as a "a massive 3,000 word lead article … trying to excuse away Elizabeth Warren's claim during her professional career to be minority and a woman of color based on supposed Native American ancestry":
The story, which had the cooperation of the Warren campaign, comes just days before the first debate in Massachusetts' Senate race. Clearly, the Warren campaign is worried after even Native Americans who are Democrats criticized Warren at the DNC in Charlotte, and is attempting to put its story out there through a friendly source.

The article is a masterpiece of distraction, weaving stories from people completely unrelated to Warren as to their own experiences with Native America family lore or growing up as Native American in the 1950's and 1960's with bits and pieces of Warren's story. The end result is an attempt to paint Warren as a victim of circumstance and the times she grew up in, as a means of explaining away the many inconsistencies in her story.

Yet when one digs down into the actual facts in the Globe story, it actually is quite devastating to Warren, proving that contrary to her many recent accounts, Native American ancestry was not central to her life at any time prior to the mid-1980s when she claimed "Minority Law Teacher" status in a national law faculty directory.
The author of the Globe article boasted it was "the most exhaustive review undertaken of Elizabeth Warren's professional history" and her Native American ancestry claims and asserted that "the Globe found clear evidence, in documents and interviews, that her claim to Native American ethnicity was never considered by the Harvard Law faculty, which voted resoundingly to hire her."
The Globe failed to point out that Warren's false claims of Native American ancestry were almost certainly included in the comprehensive application package submitted to the Appointments Committee at Harvard Law School. The Appointments Committee is the group responsible for making a recommendation on the hiring of full-time faculty at Harvard Law School to the full faculty, which either accepted or rejected those recommendations.
One person the Globe failed to interview, or even mention, was Dr. S. Alan Ray, the Harvard Law School official in charge of documenting diversity in the 1990s when Warren was officially described in press reports as "Native American" by the school.
"[I]n October [1996], Harvard Law School's then-News Officer Michael Chmura told the Harvard Crimson Warren is Native American. 'Although the conventional wisdom among students and faculty is that the Law School faculty includes no minority women, Chmura said Professor of Law Elizabeth Warren is Native American,'" Breitbart News reported 18 years later in 2014:
How did Chmura, who did not respond to a request for comment sent Wednesday and has never spoken about the matter since it became an issue in 2012, come to believe that Warren was a Native American in the first place?

The evidence from the time points to Warren herself and Dr. S. Alan Ray, Harvard Law School's Director of Academic Affairs at the time and now the president of Elmhurst College in Illinois.

Ray arrived on Harvard's campus two months before the infamous Crimson article, which, until then, was the only written mention of Warren's claims of Native American ancestry besides a 1984 "Pow Wow Chow" cookbook, which she contributed a (plagiarized) recipe to.

She had been a "woman of color" in the 1993 Harvard Women's Law Journal and listed in a national directory of minority law professors, but nothing more specific.

As Director of Academic Affairs, Ray was responsible for preparing Harvard Law School's reports to the Equal Employment Opportunity Commission and, more broadly, on assessing the number of minorities on its campus.

After he arrived, Warren was publicly identified by the school as a Native American and Harvard's 1999 Affirmative Action plan, based on the school's EEOC report, listed a single senior faculty member at Harvard Law School, a woman, as a Native American.

With Chmura relying on Ray's work to determine who was a minority on campus, and Ray not having any concrete reason to believe Warren claimed to have Native American descent, it seems likely that Warren herself provided that information to Ray, either informally or through information provided in her personnel file.
As Breitbart News reported shortly after the publication of the Globe article, Harvard Law School reported Elizabeth Warren as a Native American from 1995 to 2004:
But, according to the Globe, "Once Warren was working at the law school in a permanent job, her status as Native American wasn't a secret. Administrators marked her down as a Native American from 1995 to 2004."

And in the Globe piece, Warren admits there is a difference between family lore and tribal membership.

"I wish that I had been more mindful of the distinction between heritage and tribal citizenship," Warren said, "Only the tribes can determine tribal citizenship and I respect their right." 

"That's why now I don't list myself here in the Senate as Native American," Warren said.
Harvard Law School has not released Elizabeth Warren's original employment application package, and Dr. S. Alan Ray has failed to respond to questions about Elizabeth Warren's Native American ancestry claims while he was in charge of diversity reporting at Harvard Law School in the 1990s.
http://feedproxy.google.com/~r/breitbart/~3/cGgG_Tv7Igk/