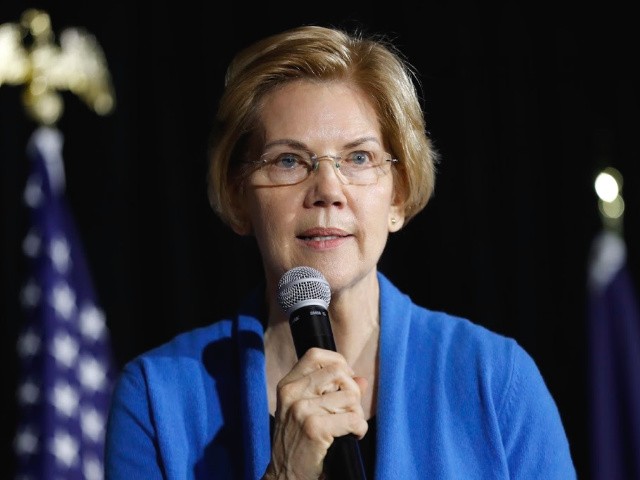 Sen. Elizabeth Warren (D-MA) delivered a surprise speech at the National Conference of American Indians on Tuesday, just days after apologizing to the Cherokee Nation for releasing her controversial DNA results showing distant Native American lineage.
According to the Huffington Post, in her remarks, Warren urged Congress to tackle Native American issues such as suicide rates, addiction, and homelessness. The presidential contender also lauded fellow female lawmakers, including Reps. Deb Haaland (D-NM) and Sharice Davids (D-KS), who were the first-ever Native American women elected to Congress.
"The agenda is enormous and the fights will be tough," the Massachusetts senator told attendees. "And in tough fights, it is important to have leaders like Cheryl out in front. Cheryl is warm, and understanding, and sharp. She's forceful and, let's say it — she persists!"
Introducing Warren to the stage, Haaland said of the White House hopeful: "Indian Country needs strong allies like Elizabeth Warren, whose unwavering commitment to Native communities and Native American women and children is needed in this political era."
Warren, addressing the same conference in 2018, pledged to make Native American issues a top priority and claimed, "I never used my family tree to get a break or get ahead. I never used it to advance my career," the Huffington Post reported.
The speech comes after the progressive firebrand recently apologized to the Cherokee Nation "for causing confusion on tribal sovereignty and tribal citizenship and the harm that has resulted."
"The chief and secretary of state appreciate that she has reaffirmed that she is not a Cherokee Nation citizen or a citizen of any tribal nation," tribe spokeswoman Julie Hubbard told the New York Times.
In October, Warren released what she said were her DNA test results in a failed attempt to bolster her prior claims of Native American heritage.
As Breitbart News reported:
The DNA test was conducted by a lab in Georgia, which provided no chain of custody of the DNA sample from Warren to them. They forwarded the data results of that DNA test to Stanford University professor Carlos D. Bustamante, who analyzed that data and wrote a report based on his analysis of it. Bustamante's report stated that Warren shared DNA with residents of Colombia, Mexico, and Peru, not Native Americans who are members of tribes in the United States. The results of that analysis, published on October 16, showed Warren may have a common ancestor who lived approximately six to 10 generations ago with residents of Colombia, Mexico, and Peru. These results mean that at the very least, Warren shares 1/1024 common DNA with residents of Colombia, Mexico, and Peru. At the very most, she shares 1/64 common DNA with residents of Colombia, Mexico, and Peru.
Two months later, during a December commencement address at the historically black Morgan State University, Warren admitted that she was "not a person of color." She went on to say, "I haven't lived your life or experienced anything like the subtle prejudice, or more overt harm, that you may have experienced just because of the color of your skin."
Following Warren's recent apology to the Cherokee Nation, the Washington Post reported Warren identified as "American Indian" on her Texas Bar registration card, which raised fresh questions about whether she used her claim of Native American heritage to advance her career.
The card, handwritten in navy blue ink, showed Warren wrote "American Indian" for her "race" and was dated April 1986. A spokesperson for the lawmaker did not dispute the card's authenticity.
Elizabeth Warren filled out a form for the State Bar of Texas in 1986 claiming American Indian heritage, according to documents reviewed by The Post https://t.co/YQjkCIxkDt

— The Washington Post (@washingtonpost) February 6, 2019
In a brief statement with the newspaper, Warren once again apologized for claiming Native American heritage.
"I can't go back," she said. "But I am sorry for furthering confusion on tribal sovereignty and tribal citizenship and harm that resulted."
Warren officially launched her presidential campaign over the weekend in Lawrence, Massachusetts, joining an ever-growing field of contenders that observers say could reach double digits.
http://feedproxy.google.com/~r/breitbart/~3/oll7qHrpEh4/