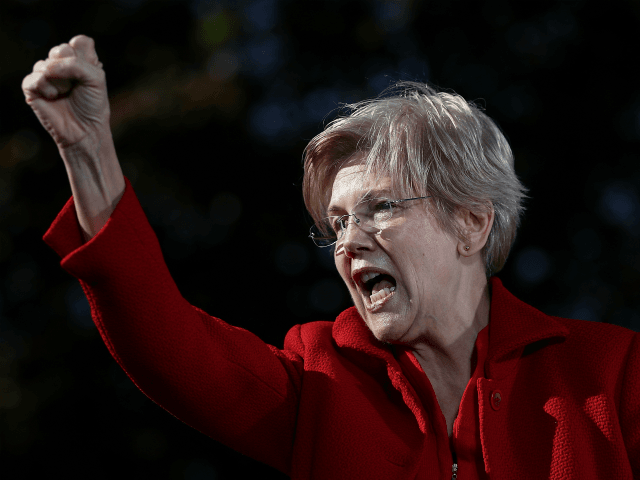 Sen. Elizabeth Warren (D-Mass.) is helping the radical group MoveOn.org group raise money for an "emergency campaign" to "stop" the potential confirmation to the Supreme Court of nominee Brett Kavanaugh.
Warren penned a blast email for MoveOn.org, which has been massively backed by billionaire George Soros, asking each supporter to "channel your anger into a weekly donation to MoveOn right now and help win the two most important fights we face right now: stopping Brett Kavanaugh and ending GOP control of Congress."
Calling Kavanaugh an "entitled judicial hit man," Warren used the "emergency campaign" email to sow division: "I'm angry that while many women had to relive the worst days of their lives last week, powerful men are doing everything they can to help a powerful man get one of the most powerful jobs in the country."
Without a trace of irony that she is raising funds for a group backed by a billionaire, Warren claimed that "the wealthy and well connected believe they are entitled to power. They are used to getting their way."
"But we know how to confront the entitled and the powerful," the senator continued. "Our voices, together, have turned a confirmation that Washington had considered a shoe-in into one that we still have a fighting chance to head off. And our votes, together, can rip power away from Republicans in just 33 short days."
Warren petitioned: "Chip in $3 a week to MoveOn's emergency campaign to stop Kavanaugh, turn Congress blue, and start organizing for 2020."
As Breitbart News reported, activist Robert Reich, who served as Bill Clinton's Secretary of Labor, sent out a blast email on behalf of MoveOn.org on Thursday stating the group's anti-Kavanaugh plot is set to include "direct actions in Washington, D.C., at Senate office buildings, including busing in constituents from key states."
MoveOn.org has taken center stage in opposing Kavanaugh, sponsoring rallies and leading a #StopKavanaugh campaign aimed at mobilizing supporters to call their senators in opposition to Kavanaugh's nomination.
On Saturday, Politico reported on progressive groups, including MoveOn.org, making a "last-minute push to stop Kavanaugh."
Besides funding from Soros, MoveOn.org has also been financed by the Tides Foundation, a leftwing sponsorship organization that has itself received donations from Soros and has partnered with Soros's Open Society Foundations.
Aaron Klein is Breitbart's Jerusalem bureau chief and senior investigative reporter. He is a New York Times bestselling author and hosts the popular weekend talk radio program, "Aaron Klein Investigative Radio." Follow him on Twitter @AaronKleinShow. Follow him on Facebook.
http://feedproxy.google.com/~r/breitbart/~3/G4GdsFVPdNA/