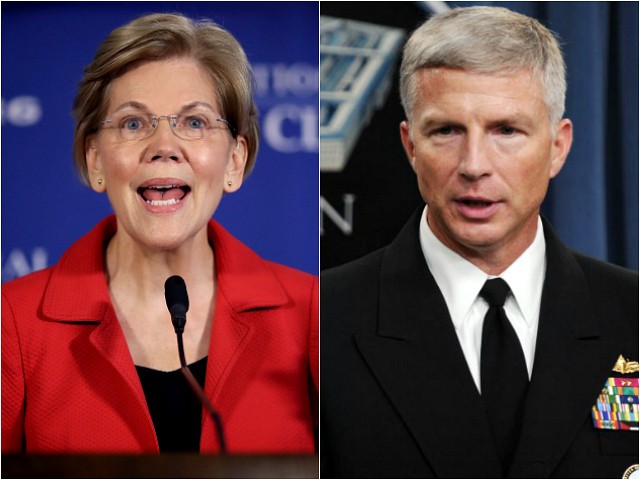 Sen. Elizabeth Warren (D-MA), a potential 2020 Democratic presidential contender, attacked Navy Vice Adm. Craig Faller Tuesday during his confirmation hearing to become commander of U.S. Southern Command (SOUTHCOM) over a decision 14 years ago to attend a party during a port visit to Hong Kong.
Faller's attendance at the 2004 party was reported in a Washington Post article the day before the confirmation hearing. The article described a lavish party for more than 50 Navy officers from the USS Abraham Lincoln aircraft carrier strike group during a port visit to Hong Kong at a luxury hotel "where they savored cocktails, cigars and courses of Oscietra caviar, black truffles and lobster thermidor."
The article said "mingling with the guests were attractive young women dressed as Santa's little helpers, wearing red hats, black boots and skimpy yuletide costumes." The party was hosted by a Singapore-based defense contractor Leonard Glenn Francis, nicknamed "Fat Leonard," who has confessed to bribing scores of Navy officers in exchange for lucrative contracts.
The commander of the strike group, now-Ret. Navy Adm. W. Douglas Crowder, told the Post that he asked Navy lawyers to review the invitation beforehand and was told it was permissible to attend, and he gave his officers the green light to go and nothing "untoward" happened at the party. He said Faller left the dinner with him.
The article said Faller was under investigation for three years for allegations that he accepted gifts and a prostitute from the contractor but was ultimately cleared by the Justice Department and the Navy.
Despite being cleared by the DOJ and the Navy, Warren seized on Faller's decision to attend the party as evidence of his bad judgment.
"Now I know that both the Department of Justice and the U.S. Navy cleared you of wrong-doing, and that your superior supposedly signed-off on the 2004 dinner, but I just have to say — this does not pass the smell test for me," she said.
"There was nothing about this dinner that set off any alarm bells in your mind?" she asked. "I know that this was many years ago, but it seems to me you didn't display good judgment at the time, and it doesn't sound like you see anything wrong with the decision you made back then."
She seized on a picture the Post ran of Faller standing next to a retired Navy officer and a woman wearing a red Christmas-themed outfit and Santa hat.
"You know there's even a picture in the Washington Post story to go along with this, um — is it now or was it then common for senior Navy officers to attend events at which prostitutes and women in scantily-clad outfits were expected to provide entertainment?"
Faller said one the benchmarks he has used to determine whether something was inappropriate was whether it would embarrass his wife of 34 years — who was sitting directly behind him during the hearing — or his two grown daughters.
She repeated her question, to which Faller replied, "There's a picture and it's nothing more, senator."
Warren sighed and said, "You understand why I'm asking this Adm. Faller — events that feature women as objects of entertainment contribute to a culture that does not respect women. … What do you say to women officers when they see that this is the kind of event that you have attended?"
Faller replied that there were female officers present at the 2004 party.
Warren continued, saying she was troubled by the decision he made 14 years ago to attend the party and that today he did not seem to think there was anything wrong in doing so.
Senate Armed Services Committee James Inhofe (R-OK) cut Warren off: "Senator — your time has expired." He also apologized to Faller at the end of the hearing.
Faller is Defense Secretary Jim Mattis's senior military assistant and has been nominated to receive his fourth star.
http://feedproxy.google.com/~r/breitbart/~3/5FAbmfClOWI/