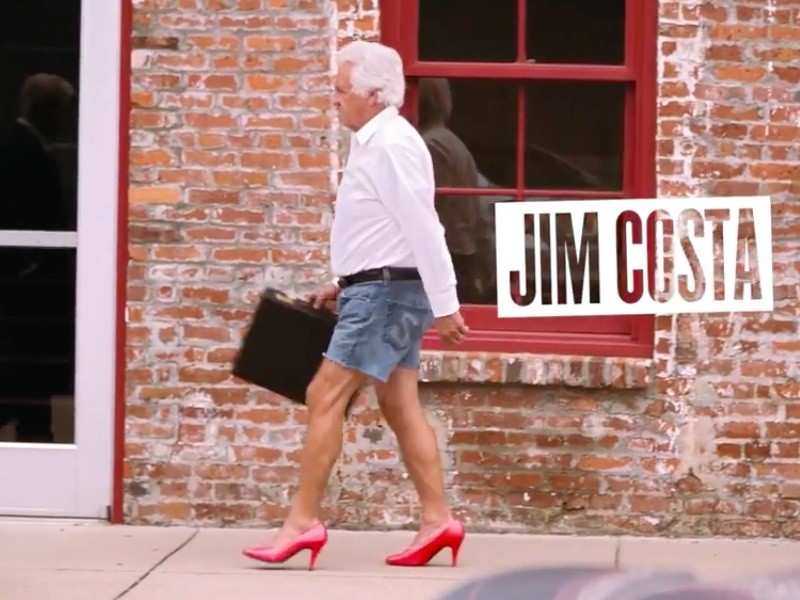 A new ad by Republican Elizabeth Heng, who is challenging incumbent Democrat Jim Costa in California's 16th congressional district, shows a Costa lookalike walking down the sidewalk in Nancy Pelosi's high-heeled shoes.
The ad, which seems to throw caution about "cisgenderism" aside, suggests that Costa is merely a stand-in for the unpopular House minority leader. Pelosi is determined to become Speaker of the House again if Democrats win.
The ad closes with Heng's tagline: "Costa la vista, baby!"
Hong said in a press statement: ""We cannot allow leadership that operates based on what's best for San Francisco and Nancy Pelosi when we have people right here in the Valley struggling to pay bills and fighting for access to water. It's unacceptable."
Costa, who represents the Fresno area and surrounding towns, is one of few Democrats in the Central Valley. He leads Heng in the polls — but only by single digits, making the race a possible flip for Republicans, depending on turnout.
On Friday, President Donald Trump gave Central Valley Republicans a boost by signing a new memorandum to expand local farmers' access to water. The measure had long been sought by area leaders — especially Rep. Jeff Denham (R-CA) in the neighboring 10th congressional district.
Heng has used new media effectively to promote her campaign. Earlier this year, Facebook blocked an ad by Heng telling her family's story of surviving brutal repression in Cambodia. Hong fought back, and achieved wide acclaim in conservative media circles for exposing evidence of partisan bias at the tech giant.
Joel B. Pollak is Senior Editor-at-Large at Breitbart News. He is a winner of the 2018 Robert Novak Journalism Alumni Fellowship. He is also the co-author of How Trump Won: The Inside Story of a Revolution, which is available from Regnery. Follow him on Twitter at @joelpollak.
http://feedproxy.google.com/~r/breitbart/~3/xtdtmdhJLLs/