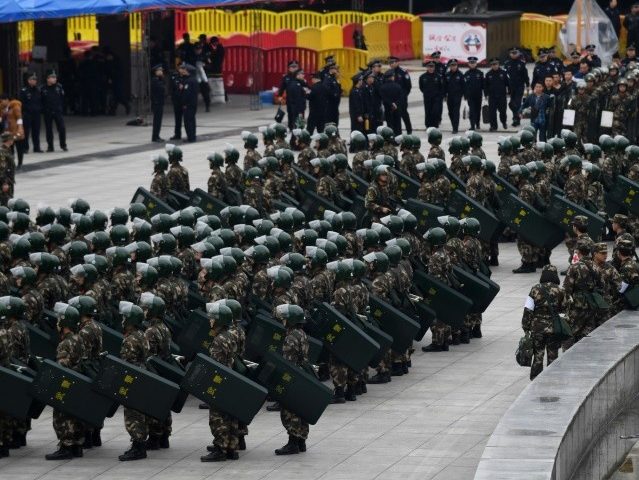 Veterans of the People's Liberation Army staged a massive protest this weekend in the eastern Chinese city of Pingdu against police beatings of former soldiers. Police beat some of the protesters during the demonstration, even though they were elderly.
Radio Free Asia (RFA) reported on Monday that police effectively sealed off the city to contain the demonstration, which drew thousands of participants from across the country. Chinese reporters said the police were withdrawn from the streets after several violent confrontations out of fear a full-blown riot could erupt.
RFA's sources produced footage of "several elderly veterans lying on gurneys at a hospital in Pingdu, one with a broken arm." A witness overheard a patient telling the hospital staff he lacked the money to pay for treatment and demanding government cover the costs because police beat him. A city resident told RFA police left the victims to languish in hospital corridors and receive poor treatment, including one who suffered a heart attack.
Police had reportedly still cordoned off and surrounded the area where protesters organized with roadblocks as of Monday. Veterans are still arriving in the city but police are preventing them from linking up with the protest movement. Provincial authorities are reportedly worried the protests will spread to other cities, especially if public anger over the beating of elderly demonstrators continues to mount.
The key issue for disgruntled PLA veterans is unpaid pensions. This weekend's protests were inspired by the callous treatment given to 38 elderly veterans from Pingdu who journeyed to Beijing to state their grievances to the central government. The petitioners were sent home and beaten by the Pingdu police when they arrived.
Chinese citizens frequently seek redress from Beijing when they are displeased with the performance of local officials. Local officials often dispatch goon squads to intercept these petitioners and bring them home by force because they are afraid of looking bad to the central bureaucracy.
Protests by army veterans may become a major problem for Communist Party leader Xi Jinping, who likes to present himself as a friend of the military and mixes strong nationalist appeals into his political messaging. A mass protest in June saw over a thousand retired soldiers occupying a public plaza in the city of Zhenjiang for four days, deeply embarrassing the regime and alienating Chinese citizens when police broke up the demonstration using much less violence than they employed in Pingdu.
"It can only irritate veterans that on the one hand, they hear propaganda that China is now a wealthy, powerful country that reveres its military, yet on the other hand they feel they have to fight for scraps," China expert Neil Diamant of Dickinson University told the Associated Press in June.
The Chinese central government created a Ministry of Veterans Affairs in March to address complaints from former soldiers and instructed them to work with the agency instead of taking their complaints to the streets. Judging by events in Pingdu, the situation has only grown worse since then.
http://feedproxy.google.com/~r/breitbart/~3/9IzVaKDCkJs/