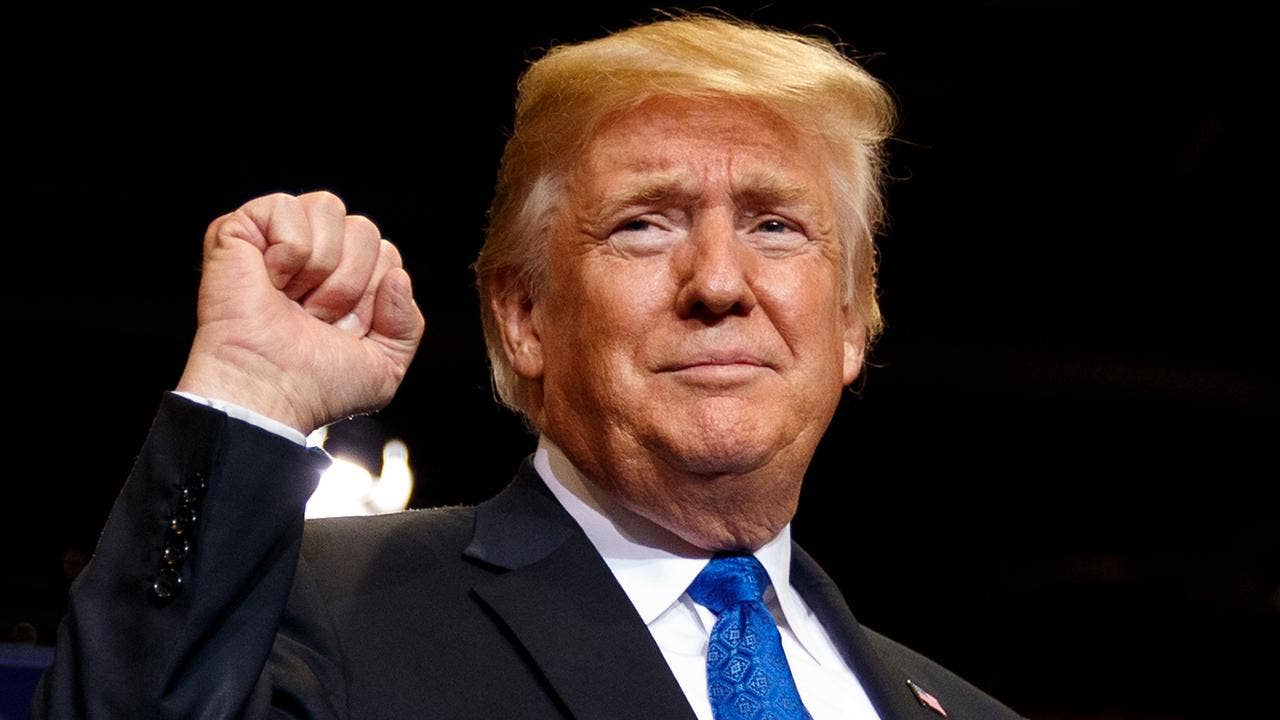 **Want FOX News Halftime Report in your inbox every day? Sign up here.**
On the roster: Early voting begins, final phase of midterms is here – Time Out: Star wars IRL – Report: Rosenstein suggests he secretly recorded Trump – Senate Republicans agree to some of Ford's conditions – Dilly, dilly
EARLY VOTING BEGINS, FINAL PHASE OF MIDTERMS IS HERE
AP: "Much of the political world is consumed with a battle over a Supreme Court nominee, an expanding international trade war and President Donald Trump's social media posts. Yet here in Minnesota, the first votes of the 2018 midterm elections are being cast. Voting machines are set up inside city buildings. A series of get-out-the-vote rallies is scheduled. And each party is spending millions of dollars to push its supporters to the polls. While Election Day 2018 is technically Nov. 6, Minnesota law allows in-person voting to begin Friday — a full 46 days early — making it the first battleground state to begin casting actual votes in the broader fight for control of Congress. Voters in every corner of the nation will soon follow. South Dakota also opens early voting on Friday, and four more states follow in the next six days, including key states including New Jersey and Missouri. California, Montana and Arizona are among seven others that allow early voting in the subsequent two weeks. It may feel early, but make no mistake: The final phase of the 2018 midterm season has begun. The commencement of voting in key states underscores the heightened significance of virtually every major development — political or otherwise — on the state and national stage in the coming days. Economic indicators, the president's tweets, new revelations in the special counsel investigation and even the weather begin to matter much more as voters decide whether to go to the polls."

THE RULEBOOK: EXPECTATIONS MEET REALITY
"THE erection of a new government, whatever care or wisdom may distinguish the work, cannot fail to originate questions of intricacy and nicety; and these may, in a particular manner, be expected to flow from the establishment of a constitution founded upon the total or partial incorporation of a number of distinct sovereignties." – Alexander Hamilton, Federalist No. 82
TIME OUT: STAR WARS IRL
Atlantic: "Nearly 1 million miles away from Earth, a top-hat-shaped spacecraft called Gaia has spent the past five years scanning the galaxy and studying its stellar inhabitants. In April, Gaia produced the best census of the stars in the Milky Way galaxy to date… Teresa Antoja, a scientist at the University of Barcelona … and her colleagues were examining the movements of more than 6 million stars in the census when they noticed something very strange. … [The stars] individual paths in this great rotation weren't uniform. … The scientists saw a distinct shape overlaid against the usual distribution of the Milky Way—the delicate coils of a tight spiral, like in the shell of a snail. … The snail shape persisted, so they concluded it was a real phenomenon. And since it wasn't a glitch, it needed an explanation. Amina Helmi, a scientist at the University of Groningen in the Netherlands and one of the study's authors, suggested the involvement of a small galaxy called Sagittarius. Sagittarius is like a neighbor to the Milky Way. The small galaxy, consisting of a few tens of millions of stars, orbits near ours, and may have even swept past the Milky Way's edges hundreds of millions of years ago. … The scientists hypothesized that when Sagittarius swung by the Milky Way, it disturbed some stars with its gravity, putting them on funky trajectories compared with others in the galaxy."
 
Flag on the play? – Email us at
HALFTIMEREPORT@FOXNEWS.COM with your tips, comments or questions.
SCOREBOARD
Trump job performance 
Average approval: 38.8 percent
Average disapproval: 54.2 percent
Net Score: -15.4 points
Change from one week ago: down 0.8 points
[Average includes: Gallup: 38% approve – 56% disapprove; CNN: 37% approve – 57% disapprove; Quinnipiac University: 38% approve – 54% disapprove; NPR/Marist: 38% approve – 54% disapprove; Grinnell College/Selzer: 43% approve – 50% disapprove.]
Control of House
Republican average: 39.8 percent
Democratic average: 50.2 percent
Advantage: Democrats plus 10.4 points
Change from one week ago: no change in points 
[Average includes: CNN: 52% Dems – 42% GOP; Quinnipiac University: 52% Dems – 38% GOP; NPR/Marist: 50% Dems – 38% GOP; Grinnell College/Selzer: 45% Dems – 43% GOP; ABC/WaPo: 52% Dems – 38% GOP.]
REPORT: ROSENSTEIN SUGGESTS HE SECRETLY RECORDED TRUMP
NYT: "The deputy attorney general, Rod J. Rosenstein, suggested last year that he secretly record President Trump in the White House to expose the chaos consuming the administration, and he discussed recruiting cabinet members to invoke the 25th Amendment to remove Mr. Trump from office for being unfit. Mr. Rosenstein made these suggestions in the spring of 2017 when Mr. Trump's firing of James B. Comey as F.B.I. director plunged the White House into turmoil. Over the ensuing days, the president divulged classified intelligence to Russians in the Oval Office, and revelations emerged that Mr. Trump had asked Mr. Comey to pledge loyalty and end an investigation into a senior aide. Mr. Rosenstein was just two weeks into his job. … Mr. Rosenstein made the remarks about secretly recording Mr. Trump and about the 25th Amendment in meetings and conversations with other Justice Department and F.B.I. officials. Several people described the episodes, insisting on anonymity to discuss internal deliberations. The people were briefed either on the events themselves or on memos written by F.B.I. officials, including Andrew G. McCabe, then the acting bureau director, that documented Mr. Rosenstein's actions and comments."
McCabe drafted memos of Rosenstein considering recording Trump – WaPo: "Memos written by Andrew McCabe, then the acting FBI director, say deputy attorney general Rod J. Rosenstein suggested he secretly record his talks with President Trump, and that Rosenstein discussed possibly trying to remove him from office, according to people familiar with the matter. … McCabe was fired earlier this year, and a grand jury is weighing possible charges against him for allegedly misleading investigators in a leak probe. McCabe's lawyer, Michael Bromwich, said in a statement that his client 'drafted memos to memorialize significant discussions he had with high level officials and preserved them so he would have an accurate, contemporaneous record of those discussions. When he was interviewed by the special counsel more than a year ago, he gave all of his memos — classified and unclassified — to the special counsel's office. A set of those memos remained at the FBI at the time of his departure in late January 2018. He has no knowledge of how any member of the media obtained those memos.'"
Rosenstein denies everything though – BBC: "US Deputy Attorney General Rod Rosenstein has denied a report alleging he discussed ousting President Donald Trump under the 25th Amendment. America's second most senior law official said it was 'inaccurate and factually incorrect.' The New York Times, citing anonymous sources, also said Mr. Rosenstein had suggested secretly recording Mr. Trump to expose chaos in the White House. … Mr. Rosenstein issued a statement saying: 'The New York Times's story is inaccurate and factually incorrect. I will not further comment on a story based on anonymous sources who are obviously biased against the department and are advancing their own personal agenda. But let me be clear about this: Based on my personal dealings with the president, there is no basis to invoke the 25th Amendment.'"
Trump agrees to delay release of Russia files, asks IG to review amid DOJ concerns – Fox News: "President Trump agreed Friday to delay the release of key files related to the Russia investigation, asking the inspector general to review the documents on an 'expedited basis' amid Justice Department concerns their publication may have a 'negative impact' on the probe. 'I met with the DOJ concerning the declassification of various UNREDACTED documents. They agreed to release them but stated that so doing may have a perceived negative impact on the Russia probe. Also, key Allies' called to ask not to release,' Trump tweeted Friday. 'Therefore, the Inspector General has been asked to review these documents on an expedited basis. I believe he will move quickly on this (and hopefully other things which he is looking at). In the end I can always declassify if it proves necessary. Speed is very important to me –and everyone!' Trump added."
SENATE REPUBLICANS AGREE TO SOME OF FORD'S CONDITIONS
USA Today: "Republicans on the Senate Judiciary Committee are willing to meet some but not all of Christine Blasey Ford's conditions in order for her to testify next week about her allegation of sexual assault in the 1980s by Supreme Court nominee Brett Kavanaugh, according to a person familiar with the negotiations. Ford has accused Kavanaugh, President Donald Trump's nominee for the high court, of sexually assaulting her when they were teenagers. Kavanaugh has denied the accusation. Republicans have offered Ford time to testify in front of the panel Wednesday, a day earlier than she requested, but a delay from Monday's scheduled hearing. They insist that she speak first, against her wishes, so that Kavanaugh can defend himself after her allegation is aired. But they agreed to her requests for security measures and that Kavanaugh be out of the room when she testifies. Still unresolved is who will conduct the questioning. They have not announced if they will honor her request to be interviewed by senators rather than a special counsel, a procedure that would save the panel's 11 Republican men from the optics of questioning a woman claiming sexual assault."
McConnell voices confidence on Kavanaugh confirmation – Fox News: "Senate Majority Leader Mitch McConnell voiced confidence Friday that Supreme Court nominee Brett Kavanaugh will be confirmed despite the sexual assault allegation against him, promising supporters: 'We're going to plow right through it.' 'President Trump has nominated a stunningly successful individual. You've watched the fight, you've watched the tactics, but here's what I want to tell you, in the very near future Judge Kavanaugh will be on the United States Supreme Court,' he told supporters at the Values Voter Summit in Washington, D.C. … Republicans, in turn, are accusing Democrats of attempting to force a delay until after the November midterms… But McConnell told the audience to 'keep the faith.' 'Don't get rattled by all of this, we're going to plow right through it and do our job,' he said to applause from the crowd."
Biden now expressing regret over his handling of Anita Hill allegations – Fox News: "Former Vice President Joe Biden voiced regret Friday over how he handled sexual misconduct allegations brought against then-Supreme Court nominee Clarence Thomas by Anita Hill more than 25 years ago, amid similar accusations today against Brett Kavanaugh. In an interview with NBC News aired Friday, Biden suggested he would apologize to Hill, who accused Justice Thomas in 1991 of making sexually explicit comments and unwanted advances toward her while she worked for him at the Education Department and Equal Employment Opportunity Commission in the 1980s. Biden, at the time, was chairman of the Senate Judiciary Committee, leading the Thomas confirmation proceedings. Biden has been criticized for his handling of that process."
PLAY-BY-PLAY
Cruz and O'Rourke take debate stage Friday night – KWTX

Republican Governors Association cuts Midwest ad buys – Politico
Pompeo says Trump may hold second meeting with Kim Jong Un in 'near future' – Fox News
AUDIBLE: YOU DO?
"We love each other." – President Trump talking about himself and Sen. Dean Heller, R-Nev., at a MAGA rally in Las Vegas Thursday night.

ANY GIVEN SUNDAY
This weekend Mr. Sunday will sit down with Secretary of State Mike Pompeo and Sen. Lindsey Graham, R-S.C. Watch "Fox News Sunday with Chris Wallace." Check local listings for broadcast times in your area.  
 
#mediabuzz – Host Howard Kurtz has the latest take on the week's media coverage. Watch #mediabuzz Sundays at 11 a.m. ET.
Share your color commentary: Email us at 
HALFTIMEREPORT@FOXNEWS.COM and please make sure to include your name and hometown.

DILLY, DILLY
KDKA: "Fans of the Cleveland Browns were able to celebrate their first win since 2016 with free beer Thursday night. The Browns beat the Jets 21-17 for their first win since Dec. 24, 2016. That's a span of 635 days, if you're keeping track. Prior to the season, Bud Light installed 'Victory Fridges' full of beer that would automatically unlock when the Browns won their first regular season game. Well, the fridges unlocked Thursday night when the game clock expired and the fans were clearly excited. Cleveland Police also got caught up in the moment, but did issue a polite warning to the fans [on Twitter:] 'We WON!!! —-Wait….Oh God. The free beer thing… Ok Cleveland. Stay calm. GO BROWNS!!! @Browns @budlight #CLE.'"
AND NOW, A WORD FROM CHARLES…
"As for foreign policy, there has always been and always should be an element of transcendent mission to U.S. actions." – Charles Krauthammer (1950-2018) writing in the Washington Post on Nov. 24, 2016.
Chris Stirewalt is the politics editor for Fox News. Brianna McClelland contributed to this report. Want FOX News Halftime Report in your inbox every day? Sign up here.
http://feeds.foxnews.com/~r/foxnews/politics/~3/YfHewkqXxag/early-voting-begins-final-phase-midterms-is-here.html