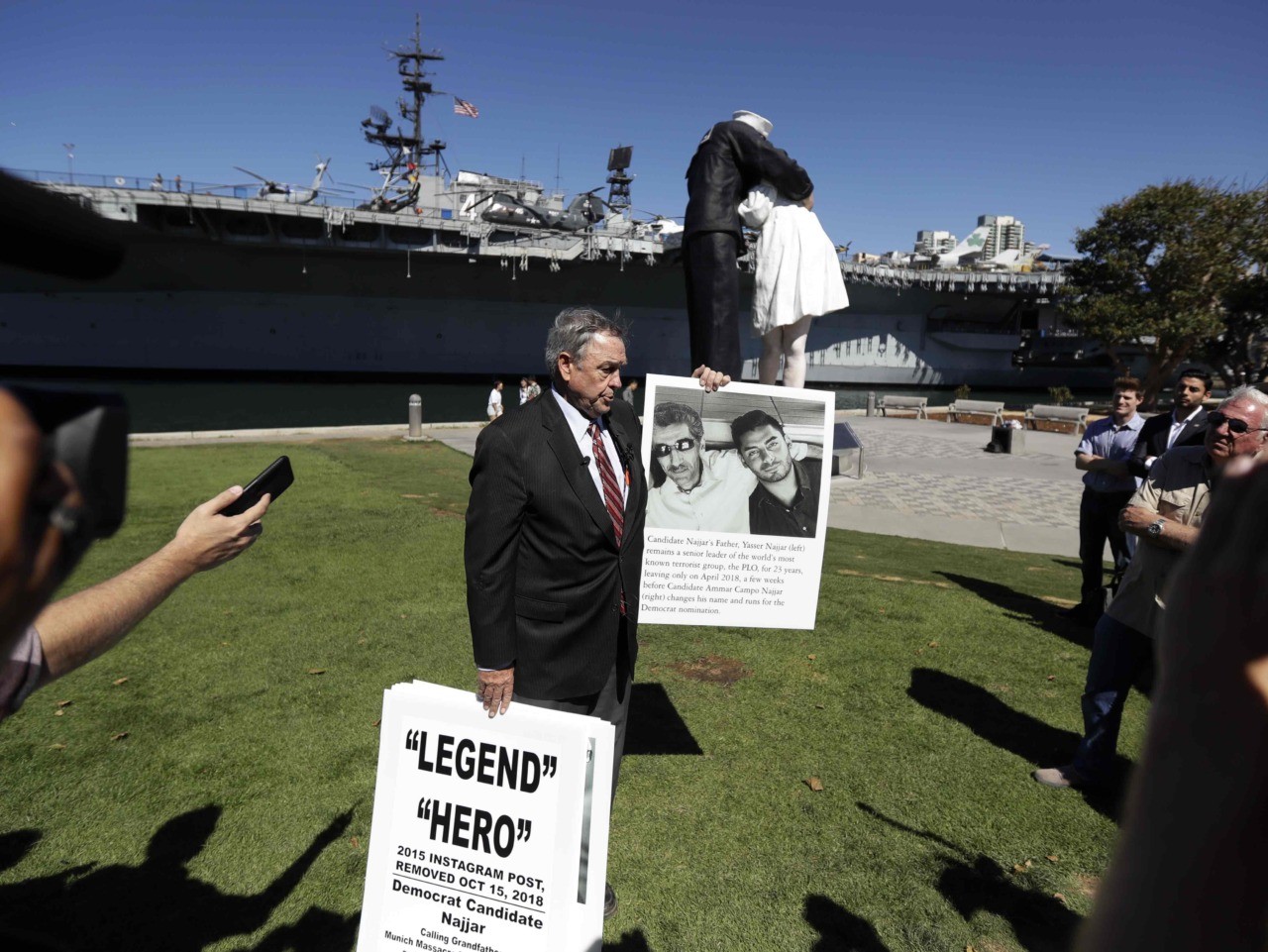 Former Republican congressman Duncan L. Hunter, the father of Rep. Duncan D. Hunter (R-CA), told reporters at the U.S.S. Midway in San Diego on Tuesday that his son's opponent, Democrat Ammar Campa-Najjar, would be a "security risk" to the country if elected to Congress.
The claim repeats an argument the incumbent Rep. Hunter has made in recent weeks — to protest from the media.
The senior Hunter brought exhibits on posters documenting the fact that Campa-Najjar's grandfather, Muhammad Youssef al-Najjar, was a Palestinian terrorist killed by Israel in the 1970s, and an aide to Palestine Liberation Organization (PLO) leader Yasser Arafat. One poster noted that Campa-Najjar, who told his grandfather's actions earlier this year, had referred to his grandfather as a "legend" in a 2015 Instagram post (now deleted.)
The local NBC News affiliate reported further:
Hunter described how Campa-Najjar's grandfather, now deceased, was behind the Munich Massacre and attempted to assassinate Golda Meir. He also said the Democratic candidate is the son of a man who was a member of the Palestinian Liberation Organization for decades.

"This has nothing to do with race, this has to do with terrorism," the former congressman said.
Campa-Najjar crashed the press conference, mocking Rep. Hunter for failing to show up and sending his father. "I'm my own man. Hunter can't even stand here and defend himself. How pathetic is that?" he asked reporters.
Later Tuesday evening, he attempted to clarify his use of the term "legend," noting it was not necessarily positive.
Dictionary definition of "legend" on Google search.

Legend =/= good.

Source, Google. (https://t.co/uHP1BqqFgm) pic.twitter.com/KE0zKj5XDC

— Ammar Campa-Najjar (@ACampaNajjar) October 17, 2018
Rep. Hunter was indicted earlier this year on federal charges of misusing campaign funds (which he denies). That soon made the race for the traditionally Republican 50th congressional district more competitive than usual.
Joel B. Pollak is Senior Editor-at-Large at Breitbart News. He is a winner of the 2018 Robert Novak Journalism Alumni Fellowship. He is also the co-author of How Trump Won: The Inside Story of a Revolution, which is available from Regnery. Follow him on Twitter at @joelpollak.
http://feedproxy.google.com/~r/breitbart/~3/dd36FGRuMqk/