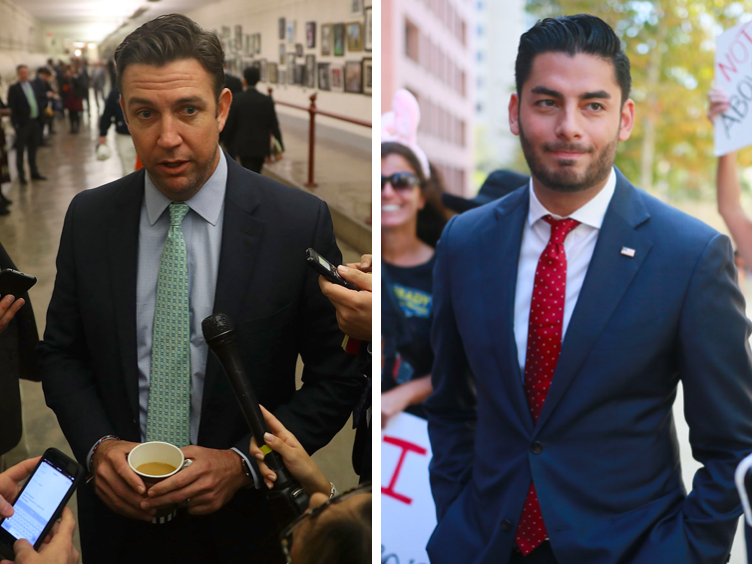 Rep. Duncan Hunter (R-CA) demanded Thursday that his Democratic opponent, Ammar Campa-Najjar, return a $250.00 donation he received last year from Palestinian ambassador Feda Abdelhady Nasser, Deputy Permanent Observer of the State of Palestine [sic] to the United Nations.
Breitbart News reported the unusual donation on Wednesday from Abdelhady Nasser, the second-ranking Palestinian diplomat at the U.N. Ambassador Abdelhady is the daughter of Palestinian immigrants to the U.S.
"A campaign contribution from a representative of a state which sponsors attacks on Israel's citizens is troubling to Americans," Hunter said in a press release. "Why is Palestine supporting the election of Campa-Najjar? Obviously, the contribution of a state leader is a signal to Palestinians to join Najjar's campaign. Najjar should return the money."
The 50th congressional district is normally a safe Republican seat. However, the became more competitive when Hunter and his wife were indicted this summer on charges of misusing campaign funds. Hunter protests his innocence.
Campa-Najjar told Breitbart News, via e-mail from his spokesman: "Hunter needs to focus less on a donor who legally gave me $250 and focus on the $250,000 he took from his donors that he illegally used to fund a lavish lifestyle."
Campa-Najjar is the son of another Palestinian diplomat, Yasser Najjar, who represented the Palestine Liberation Organization in Norway, Iceland, and Albania, according to his LinkedIn profile.
Campa-Najjar's paternal grandfather was "Muhammad Yousef al-Najjar, a senior member of the Palestinian terrorist group Black September that murdered 11 Israeli athletes at the 1972 Munich Olympics," the Times of Israel reported in February. Campa-Najjar has condemned his grandfather's actions.
Joel B. Pollak is Senior Editor-at-Large at Breitbart News. He is a winner of the 2018 Robert Novak Journalism Alumni Fellowship. He is also the co-author of How Trump Won: The Inside Story of a Revolution, which is available from Regnery. Follow him on Twitter at @joelpollak.
http://feedproxy.google.com/~r/breitbart/~3/9Uhazg2G5HI/