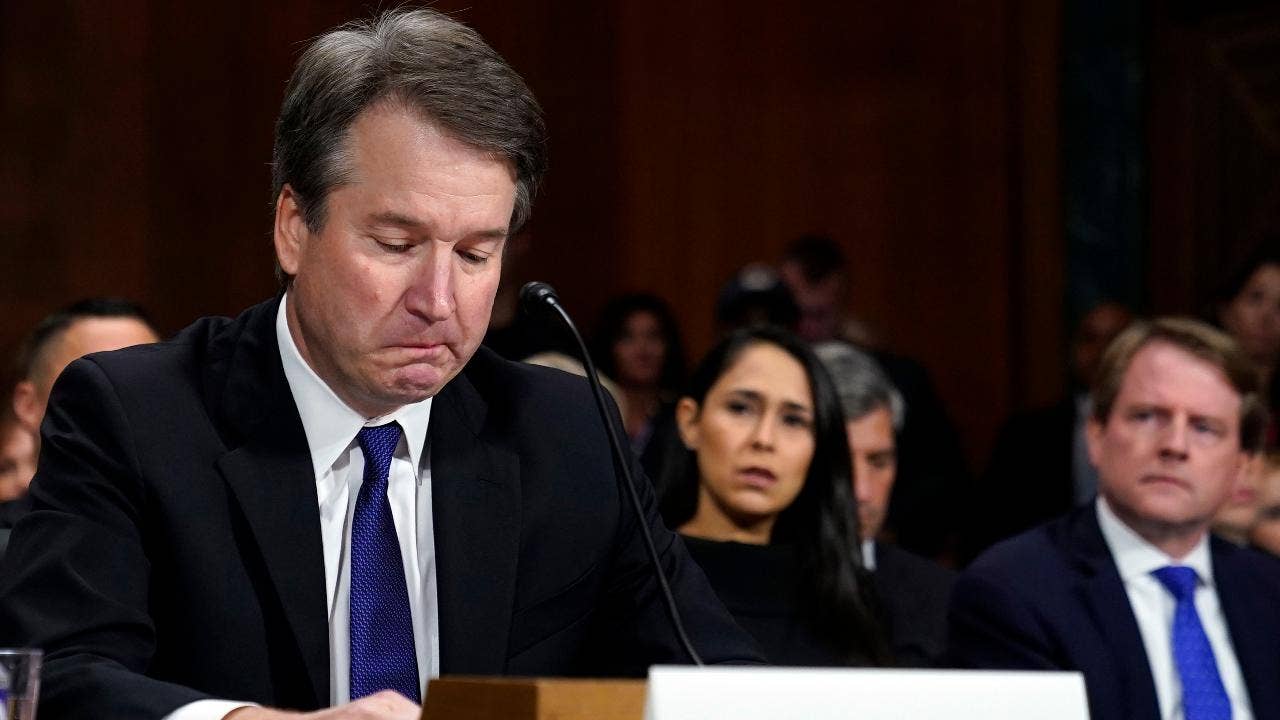 It's unknown if Brett Kavanaugh will ever get to walk through the front door of the Supreme Court as its next Associate Justice.
But the Senate is wrestling with Kavanaugh's future after the sexual-harassment accusation from Dr. Christine Blasey Ford went public — a claim that emerged after she got into a dispute with her husband over a second front door to their home in California.
Ford told the Senate Judiciary Committee that she and her husband wound up in couples counseling over a remodeling project at their California home. Ford said her husband couldn't understand why she wanted a second front door to the house.
"I insisted on a second front door. An idea that he and others disagreed with and could not understand," Ford testified.
She says the alleged attack by Kavanaugh caused her to have a fear of "claustrophobia. Panic."
"Is that the reason for the second door?" asked Sen. Dianne Feinstein, D-Calif., the top Democrat on the committee.
"Yes," replied Ford.
The Senate Judiciary Committee didn't conduct the second round of hearings in the spacious room in the Hart Senate Office Building which serves as a Capitol Hill soundstage. Instead, the committee shoehorned senators, witnesses, the press and 20 members of the public into a bandbox room in the Dirksen Senate Office Building.
Unlike most hearing rooms, 262 Dirksen lacks a rear door immediately behind the dais for senators, aides and key witnesses to come and go. Instead, this room features a solitary door at the rear of the room which empties into an office suite. A side door opens into the public hallway.
Ford and Kavanaugh were never in the room at the same time. U.S. Capitol Police and other security officials brought both witnesses through the door at the back. They had to navigate a mess of chairs and tables wedged up against walls, littered with laptop computers, iPads and coils of cables. Judiciary Committee staffers sat scrunched up behind senators, with barely enough room for their legs and knees that were wedged up against the backs of chairs occupied by their bosses on the dais.
The sessions with Ford and Kavanaugh veered into winding, Baroque alleyways. But those types of things seem to unfold at hearings of this magnitude.
The hearings with Supreme Court Justice Clarence Thomas and law professor Anita Hill were the first which featured extensive discussion about the placement of pubic hair on a soda can and references to "The Exorcist."
The tableau with Christine Blasey Ford and Brett Kavanaugh are the first where the testimony hinged on remodeling floor plans, the layout of high school yearbooks and invocations by Kavanaugh of the movies "Animal House, Caddyshack and Fast Times at Ridgemont High."
On multiple occasions, Kavanaugh informed the committee that he "liked beer."
Kavanaugh tangled with Sen. Patrick Leahy, D-Vt. over whether references next to the nominee's yearbook photo of "Keg City Club (Treasurer)" and "100 Kegs or Bust" were an accurate reflection of who he was. Kavanaugh tried to counter the narrative by describing time he spent volunteering at a Washington, D.C., soup kitchen and how he signed up for the track team in order to "get faster" as a wide receiver on his high school football team.
In an extended exchange with Sen. Sheldon Whitehouse, D-R.I., Kavanaugh explained that he had always had a "weak stomach" and discussed episodes when he vomited after drinking. He also said he had always had problems with "beer and spicy food."
Another question from Whitehouse asked about another obscure yearbook reference.
"It refers to flatulence," said Kavanaugh. "We were 16."
That drew howls of laughter in the hearing room.
Whitehouse continued his line of questioning, asking about another yearbook reference, "Devil's Triangle."
"It's a drinking game," said Kavanaugh. "Ever play quarters?"
Sen. Amy Klobuchar, D-Minn., noted that her father is 90 years old and sober, but has been in AA for years because he was "pursued by grace." Klobuchar then asked Kavanaugh if there were ever occasions where he blacked out or didn't remember things after imbibing. Kavanaugh then turned the tables on Klobuchar, asking her the same.
She didn't answer.
After a recess, Kavanaugh returned to the witness table, saying that he "shouldn't have asked that" and apologized to the senator.
Klobuchar noted that as the daughter of an alcoholic, she was mindful about drinking.
Under questions from Sen. Richard Blumenthal, D-Conn., Kavanaugh detailed a 1990 outing to Fenway Park in Boston while he was a law student at Yale. He noted that Roger Clemens was pitching that night for the Red Sox and George Brett was playing third base for the Kansas City Royals.
"It was a great night of fun," said Kavanaugh.
The judge then amended his testimony, telling senators that in fact, Brett did not play at the hot corner that night. Instead, Brett was in left field.
Brett only played left field four times in his career. But at the game Kavanaugh mentioned, Brett was in fact stationed in the shadow of the Green Monster.
A squadron of House members visited the hearing to hear much of the testimony. Reps. Carolyn Maloney, D-N.Y., Sheila Jackson Lee, D-Texas, Lois Frankel, D-Fla., Jackie Speier, D-Calif., and Chellie Pingree, D-Maine., sat toward the back. After Ford completed her statement, Pingree removed her eyeglasses and appeared to wipe away a tear.
During his opening remarks, Kavanaugh himself choked up several times, his voice cracking. Kavanaugh pointed out that even his ten-year-old daughter told her parents they should "pray for the woman."
When the committee broke after Ford's testimony, Republicans seemed rattled that they may fall short of matching her narrative. But Kavanaugh came out swinging, his voice echoing off the hearing room's 26-foot high oak walls.
But Kavanaugh's performance was but a warm-up act for Sen. Lindsey Graham, R-S.C.
Until it was Graham's time to speak, each Republican had ceded their question and answer period to outside Republican counsel Rachel Mitchell.
"This is the most unethical sham since I've been in politics!" thundered Graham, neck veins popping and turning red.
The South Carolina Republican then tore into Democrats.
"Y'all want power. God, I hope you never get it," excoriated Graham, practically spitting before turning back to Kavanaugh: "You're looking for a fair process? Well, you came to the wrong town at the wrong time, my friend."
Graham even accused his colleagues of trying to morph Kavanaugh into Bill Cosby.
And speaking of '80s TV shows…
The most visible witness at the hearing was Alyssa Milano, star of "Who's the Boss," a guest of Feinstein and an advocate for the #MeToo movement.
Milano said she had emailed Ford's counsel to see if she wanted to talk or "have coffee."
Although she was just a teenager at the time, Milano said she watched the 1991 hearings with Clarence Thomas and Anita Hill.
"It was so much a part of our daily discussion," said Milano.
Does she think the charges this time will derail Kavanaugh the way they didn't derail Thomas?
"I do. We're in a different time. More so than '91," replied Milano.
We'll know on Tuesday. That's when the Senate's slated to conduct what should be a razor-thin confirmation vote.
http://feeds.foxnews.com/~r/foxnews/politics/~3/PacQvP9Qu6A/dramatic-testimony-from-kavanaugh-ford-included-outrage-emotion-history.html