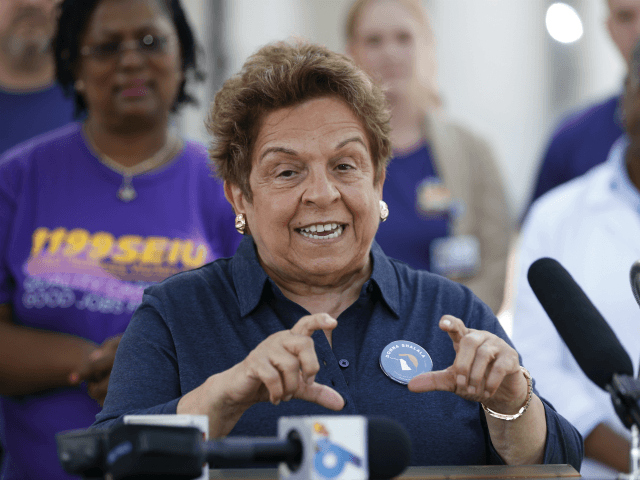 The congressional bid by Donna Shalala, the 77-year-old former Secretary of Health and Human Services Secretary under President Barack Obama, in a Florida district the Democrats were certain they would pick up from Republicans, is losing steam.
"Democrats exulted when U.S. Rep. Ileana Ros-Lehtinen announced last year she was retiring. Because the Republican congresswoman's district leans Democratic, one prominent Washington election watcher immediately labeled the race 'lean Democratic," the Miami Herald reported last week:
No longer.

On the heels of two internal polls Wednesday that showed Democratic nominee Donna Shalala either losing or nearly tied with GOP opponent Maria Elvira Salazar, the Washington non-partisan election handicapper, the Cook Political Report, moved the needle back to the middle to "toss-up."

David Wasserman, who tracks House races for Cook and last week suggested that some Democrats were worried that Shalala had not pulled away, called it a "stunning turn" for a race that should be a "slam dunk" for Democrats.
Democrats have only themselves to blame for this change in circumstances.
"Shalala, 77, would be the second-oldest House freshman in history and is seeking to represent an overwhelmingly Hispanic district, despite not speaking Spanish. Her Republican opponent, Maria Elvira Salazar, 56, is a well-known former Spanish language television reporter who has 'been savvy in attracting free media,' " the Herald noted.
"Salazar . . . has been remarkably efficient in using her name strength in Congressional District 27 to her advantage, and has turned this into a competitive race," the Sunshine State News reported, noting that "the district is heavily Latino, with 57 percent of the registered voters being Hispanic. Salazar also has an edge beyond her name advantage — she can campaign comfortably in the area to most audiences because she is bi-lingual; Shalala is not."
Another indicator of trouble for Shalala is, there is a third-party, Independent candidate, Mayra Joli, and she could impact things as well. While currently only drawing 8 percent interest in the polling, there is a marked split in her support. She only has interest from 5 percent of Hispanics, but 13 percent of Anglos, indicating she might chip further away at the Shalala base. Independents are split evenly between the leaders, so Joli could be an outlying influence.

Working in Shalala's favor is that she has a near 3-1 advantage in campaign funds, something she obviously needs. To make up that difference, Salazar must continue to leverage her built-in recognition. What will be of interest is how the national parties will be reacting, both in CD 27 and in Florida in general.

While talk of a promised "blue wave" is all the rage, here in the political bellwether state, signs of that inevitable surge are harder to come by. In the 26th District Carlos Curbelo has a sizable lead. Bill Nelson is looking precarious in his bid to retain his Senate position. Andrew Gillum, while leading in most polls, is still within the margin of error.
Though she narrowly won the Democrat primary to become the nominee in the general election, Shalala has more in common with the long-time Democrat stalwarts who lost their Congressional primaries in major upsets, 56-year-old Rep. Joe Crowley (D-NY) and 66-year-old Rep. Michael Capuano (D-MA), than she does with the victors in those primaries, 28-year-old Alexandria Ocasio-Cortez and 44-year old Ayanna Pressley .
With just six weeks until election day, Democrats can no longer count on Florida's 27th Congressional District to provide one of the 23 net gains they need to take back the majority in the House of Representatives.
http://feedproxy.google.com/~r/breitbart/~3/drHGyK5mK7w/