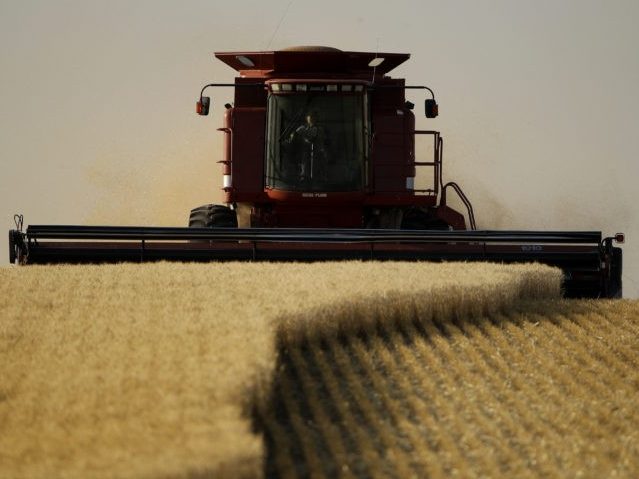 Farm CEOs are increasingly buying labor-saving machinery — and raising farmworkers' wages — because they are facing a shortage of illegal migrant workers, says an article in the New York Times.
In an article headlined, "As Immigrant Farmworkers Become More Scarce, Robots Replace Humans," the New York Times writes:
Mr. [Abel] Montoya is among a new generation of farmworkers here at Taylor Farms, one of the world's largest producers and sellers of fresh-cut vegetables, which recently unveiled a fleet of robots designed to replace humans — one of the agriculture industry's latest answers to a diminishing supply of immigrant labor. The smart machines can assemble 60 to 80 salad bags a minute, double the output of a worker.
But the article carefully avoids giving any credit to President Donald Trump's lower-immigration/higher-wage policy, or the public's opposition to cheap-labor migration. For the last three years, the NYT's editors and reporters have bitterly opposed Trump's higher-wage policy, despite the public's growing recognization of the many economic and civic harms caused by Wall Street's demand for more cheap workers and more taxpayer-funded consumers.
The article describes the impact of the farmers' new focus on labor-saving machinery:
About 60 percent of the romaine lettuce and half of all cabbage and celery produced by Taylor Farms are harvested with automated systems. The company has partnered with an innovation firm, which previously focused on automated vehicle assembly, to develop a machine to begin harvesting broccoli and iceberg lettuce within two years.

All told, the company plans to double the number of automated harvesters, which cost about $750,000 each, in the fields each year — until nearly everything can be machine-picked.

On a recent morning, a machine that employs water-knife technology severed romaine heads as it moved through row after row of a lettuce field that stretched as far as the eye could see. The lettuce traveled on a belt to the machine's platform, where 12 men and women inspected, trimmed and boxed it.
Without the machine, a crew of 24 people is used to manually chop the lettuce before handing it over to the vehicle-mounted crew who do the inspections, trimming and boxing.
The NYT article also mentions Bartley Walker, a company which has developed a robot that can crawl through crops to detect weeds for removal. Without the robot, farmers use migrant laborers — mostly illegals — to manually kill weeds with a blade-tipped hoe. The hoe technology is several thousand years old.
Jeff Bezos' WashPo prints op-ed endorsing H-2C very-cheap-labor visa-worker program for farm industry, cuz stock prices are not high enough. (PS: Biz also wants more foreign college-grad visa-workers to replace U.S. college grads in prestige companies) https://t.co/vvK4gFfGSY

— Neil Munro (@NeilMunroDC) August 27, 2018
The article does not explain where the new machines are being manufactured. If they are being made in the United States, it means that Trump is pressuring the farming sector to convert low-wage farms jobs into middle-class manufacturing jobs.
The article notes that the farm industry has been slow to develop agriculture technology. For example, the Western Growers association only opened a research center in 2016. This means that many U.S. farms are facing more international competition without the benefit of labor-saving machinery. For example, Taylor Farms is also building a new farm in Mexico to hire cheap Mexican labor as it begins to deploy labor-saving machinery in the United States.
The farming industry is still pushing Congress to give them a huge new H-2C visa-worker program which would provide them with more than 1 million very cheap visa-workers — and an excuse to stop buying American-made farm machinery.
US farm wages are too d*** high: GOP votes Wed on bill giving 1 million cheap foreign replacements to food industry https://t.co/lR7pKED4Mx

— Neil Munro (@NeilMunroDC) October 3, 2017
The NYT article guardedly admits that rising productivity helps illegal migrants — and helps their U.S. children gain higher wages.
Breitbart News has extensively covered the political battle between low-wage employers, migration advocates, cost-conscious consumers, pro-American migration reformers, agricultural technology producers, and risk-averse politicians.
Iowa Public TV showed operations at Yarabee Farms in iowa, which hired Mollie Tibbetts' alleged killer. Trump's immigraiton clampdown is driving up wages for illegal farm workers, so pushing farmers to buy long-ignored robots. https://t.co/UlU0OVeVBz

— Neil Munro (@NeilMunroDC) August 22, 2018
The establishment's economic policy of using migration to boost economic growth shifts wealth from young people towards older people by flooding the market with cheap white-collar and blue-collar foreign labor. That flood of outside labor spikes profits and Wall Street values by cutting salaries for manual and skilled labor offered by blue-collar and white-collar employees.
The policy also drives up real estate prices, widens wealth-gaps, reduces high-tech investment, increases state and local tax burdens, hurts kids' schools and college education, pushes Americans away from high-tech careers, and sidelines at least five million marginalized Americans and their families, including many who are now struggling with opioid addictions.
Immigration also pulls investment and wealth away from heartland states because coastal investors can more easily hire and supervise the large immigrant populations living in the coastal states
http://feedproxy.google.com/~r/breitbart/~3/guOLmKYqiz0/