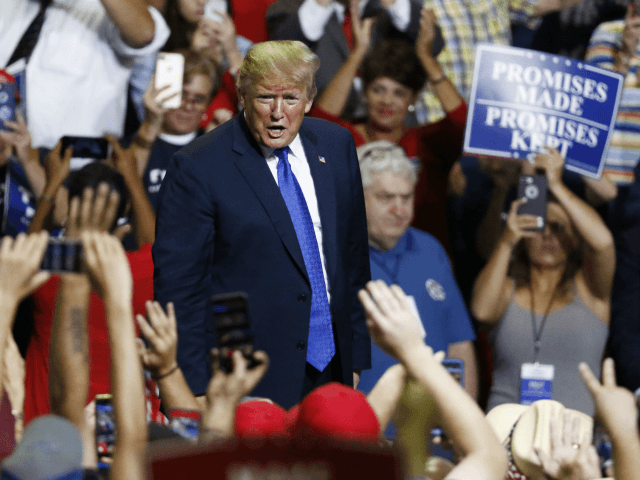 President Donald Trump commented Wednesday that his supporters were furious about the way Democrats were trying to smear Brett Kavanaugh.
"I see it each time I go out to Rallies in order to help some of our great Republican candidates," Trump wrote on Twitter, before switching to all-caps. "VOTERS ARE REALLY ANGRY AT THE VICIOUS AND DESPICABLE WAY DEMOCRATS ARE TREATING BRETT KAVANAUGH!"
Voters at Trump's Mississippi rally on Tuesday evening chanted "We want Kavanaugh!" when the president first mentioned his nominee to the Supreme Court.
"They've been trying to destroy Judge Kavanaugh since the very first second he was announced," Trump wrote. "Because they know Judge Kavanaugh will follow the Constitution as written."
Trump challenged Senate Democrats for acting "holier than thou" in their scrutiny of Kavanaugh's high school and college drinking.
"They want to destroy people," he said. "These are really evil people."
Trump also pointed out the inconsistencies in Kavanaugh's accuser Christine Ford's testimony that she "didn't remember" the details of her alleged assault.
"A man's life is in tatters," Trump said. "A man's life is shattered. His wife is shattered. His daughters, who are beautiful, incredible young kids."
I see it each time I go out to Rallies in order to help some of our great Republican candidates. VOTERS ARE REALLY ANGRY AT THE VICIOUS AND DESPICABLE WAY DEMOCRATS ARE TREATING BRETT KAVANAUGH! He and his wonderful family deserve much better.

— Donald J. Trump (@realDonaldTrump) October 3, 2018
http://feedproxy.google.com/~r/breitbart/~3/SzrY4sPLiuM/