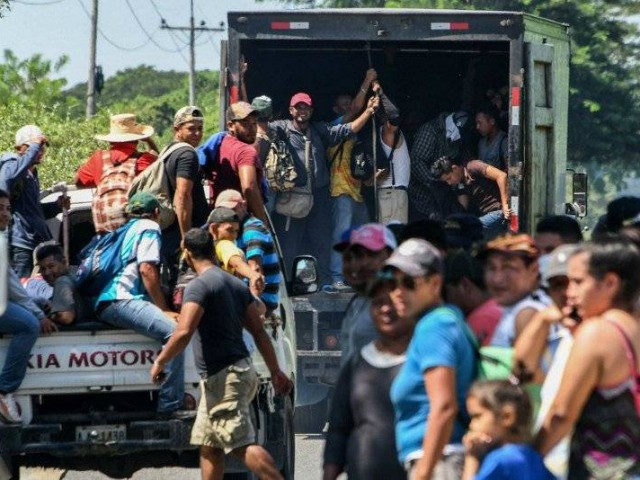 President Donald Trump threatened to halt federal aid to Honduras on Tuesday in response to a caravan of migrants making its way to the United States to claim asylum.
"The United States has strongly informed the President of Honduras that if the large Caravan of people heading to the U.S. is not stopped and brought back to Honduras, no more money or aid will be given to Honduras, effective immediately!" Trump wrote on Twitter.
The caravan of Hondurans has already crossed into Guatemala, increasing in size as the group grew from 160 to an estimated 2,000 by Monday, according to the Associated Press.
The caravan began traveling from Honduras after Vice President Mike Pence urged the governments of Honduras, El Salvador, and Guatemala to keep their citizens in place.
"Tell your people: Don't put your families at risk by taking the dangerous journey north to attempt to enter the United States illegally," he said last week during a speech in Washington, DC.
U.S. law allows migrants fleeing violence to claim asylum at the border.
The group's next hurdle is to make it across the Mexican border:
Incoming! The Honduras caravan of migrants is now in Guatemala, after police backed down and let them through at the border.

ETA America – November mid terms #BuildtheWall pic.twitter.com/6f4xAq2SYF

— Katie Hopkins (@KTHopkins) October 16, 2018
President Trump has expressed frustration with Democrats for refusing to reform immigration laws, a critical political issue in the midterm elections.
"We have the dumbest laws in history, and it's because of the Democrats," he said on Monday, "because they want to have these laws that way."
The United States has strongly informed the President of Honduras that if the large Caravan of people heading to the U.S. is not stopped and brought back to Honduras, no more money or aid will be given to Honduras, effective immediately!

— Donald J. Trump (@realDonaldTrump) October 16, 2018
http://feedproxy.google.com/~r/breitbart/~3/b7HUo4BUdig/