President Donald Trump expressed his sympathy on Wednesday for victims caught in the path of Hurricane Florence in North Carolina and South Carolina.
"To the families who have lost loved ones, America grieves with you and our hearts break for you," Trump said. "God Bless you. We will never forget your loss, we will never leave your side, we are with you all the way."
Trump met with members of Congress and state and local officials in North Carolina and visited areas hit by the storm promising to work for a swift recovery.
"We want to get everybody back to work…this area has been very badly damaged," he said. "We will get it up and working again."
Department of Homeland Security Secretary Kirjen Nielson attended the roundtable meeting as well as North Carolina Senators Thom Tillis and Richard Burr, and FEMA Administrator Brock Long.
"To all those impacted by this terrible storm, our entire American family is with you and ready to help and you will recover," he said.
Trump also met with residents in North Carolina at Temple Baptist Church in New Bern, North Carolina, a town that suffered some of the worst flooding in the state.
The president and North Carolina Gov. Roy Cooper joined volunteers and handed out packages of food to many of the flood victims.
One boy among the volunteers asked the president for a hug.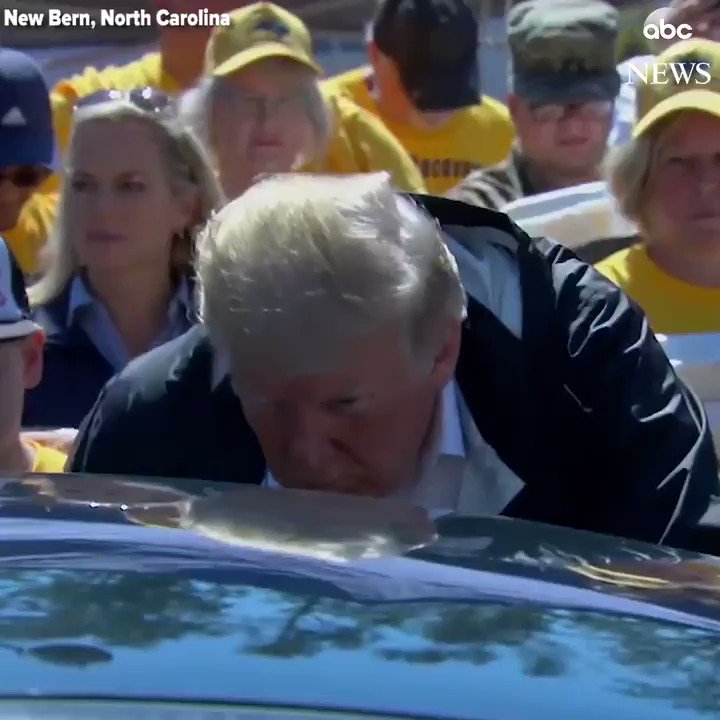 Trump also walked through areas hit by the flooding.
"Is this your boat? Trump asked a homeowner with a flood-damaged boat in his front yard.
The resident said he did not know who the boat belonged to.
"Did it become your boat? At least you got a nice boat out of it … you wouldn't want to cross the ocean in it," he joked.
Trump also shook hands and hugged residents who were affected by the storm.
He promised to look into a story of one resident who said that his home insurance refused to pay for the damage.
One man then informed the president that he named his dog after him.
"That's nice," Trump replied.
The president praised the advance efforts in preparation for the storm.
"The planning that went into this is beyond belief," he said. "It's really something special."
The president thanked law enforcement and first responders and citizen volunteers like the Cajun Navy for helping rescue thousands of storm victims.
"In moments of despair, we witness the true character of the American people," Trump said. "So true."
North Carolina Governor Roy Cooper said that his state took a "gut punch" from the storm and that people were still suffering.
"We've lost 27 lives officially so far and some more are under investigation and we've mourned their loss," he said about the death toll in his state
The president will also travel to South Carolina to meet with officials later Wednesday.
http://feedproxy.google.com/~r/breitbart/~3/Au9-aRwz1t0/