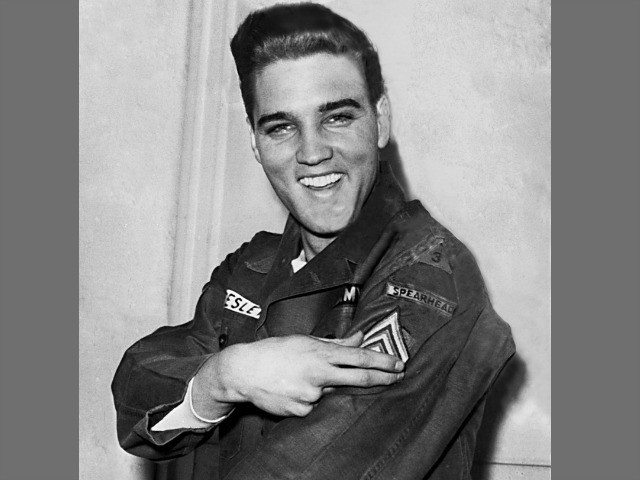 President Donald Trump awarded the Presidential Medal of Freedom to seven prominent civilians on Friday but surprised the audience with a special tribute to rock and roll singer Elvis Presley.
The president called Elvis the "True King" of Rock and Roll and paused his speech while Presley's version of "How Great Thou Art" played on the sound system.
Elvis is in the building pic.twitter.com/l37gyd9s9o

— Charlie Spiering (@charliespiering) November 16, 2018
Trump also awarded medals to Miriam Adelson, Utah Senator Orrin Hatch, Justice Alan Page, and Quarterback Roger Staubach, as well as s baseball player George Herman "Babe" Ruth, Jr. and Justice Antonin Scalia.
Hatch is retiring from the Senate after serving for more than 41 years in his position.
"He liked me right from the beginning and therefore I like him," Trump said about Hatch. "That's the way it is, I guess I'm not supposed to say it, but that's the way life works."
Trump praised Scalia's lifetime of service and legal contributions, welcoming his wife Maureen, who accepted the medal on behalf of her deceased husband. He also named all nine of their children.
"You were very busy, wow," Trump said to Scalia's family. "I always knew I liked him."
Members of the Supreme Court, including Justice Ruth Bader Ginsburg and Chief Justice John Roberts, attended the ceremony.
Trump praised Staubach for his service in the military and his pro-football career leading the Dallas Cowboys to win the Super Bowl two times.
The president recalled that Babe Ruth was one of the greatest athletes of all time.
"This award should have been given to him a long time ago," Trump said, noting that he had a "great devotion" to the United States and "raised a lot of money" for children and "a lot of hell."
He noted that Justice Alan Page was also a college hall of fame quarterback for Notre Dame and a professional NFL player for the Vikings before becoming a Minnesota Supreme Court Justice.
The Medal of Freedom is the nation's highest civilian honor for individuals who have made significant contributions to the United States.
http://feedproxy.google.com/~r/breitbart/~3/-ldNFZTNhlk/