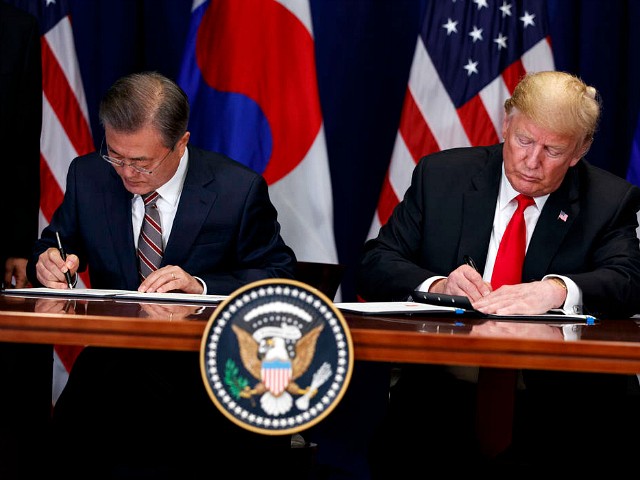 President Donald Trump signed a new free trade agreement with South Korea on Monday, celebrating it as a major achievement for his administration.
"From day one I promised the American people that I would renegotiate our trade deals to ensure that our agreements were fair and reciprocal," Trump said during his remarks.
The pair of leaders signed the documents in New York City during the week-long meeting of the United Nations General Assembly.
Trump said that the new deal would reduce the trade deficit between South Korea and the United States, helping South Koreans open up their markets on items like farm products, medicines, and vehicles.
"This agreement will reduce bureaucracy and increase prosperity in both of our countries," he said, promising to work to implement the new trade deal swiftly.
The president thanked South Korean President Moon Jae-in for his cooperation in renegotiating the deal.
"I'm honored to call you a friend," he said.
The pair of leaders signed a document in front of the South Korean and American flags and shook hands. As a sign of appreciation, Trump gave his pen to President Moon after he finished signing the document.
Vice President Mike Pence, Treasury Secretary Steven Mnuchin, United States Trade representative Robert Lighthizer, and economic adviser Larry Kudlow were present for the ceremony.
http://feedproxy.google.com/~r/breitbart/~3/tcPEZam77BU/