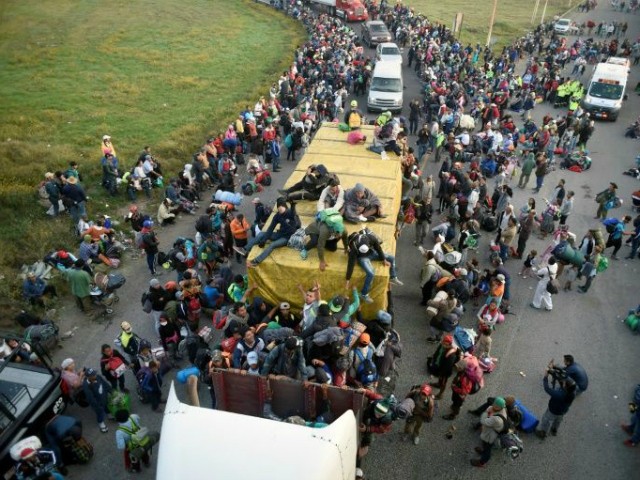 President Donald Trump said on Thursday that he may close the U.S.-Mexico border if the rush of illegal migrants pushes border management out of control.
"If we find that it's uncontrollable, Josh, if we find that it's — it gets to a level where we are going to lose control or where people are going to start getting hurt, we will close entry into the country for a period of time until we can get it under control," Trump told a gaggle of reporters in Palm Beach, Florida, according to a transcript prepared by Grabien.com.
"If you don't have borders, you don't have a country," he said. "Democrats want open borders."
Trump's statement comes two days after a San Francisco judge temporarily shut down his November 9 border reforms at the request of a group of ACLU lawyers. The reform denies illegal migrants the right to ask for a full asylum and the right to live in the United States.
Trump's threat to close the border also comes amid reports that White House officials may pressure Mexico to accept the temporary return of asylum-seeking migrants pending the courtroom resolution of their pleas for asylum in the United States.
Currently, some Mexican border officials are helping U.S. border officials limit the daily number of caravan migrants who are allowed to ask for asylum at the official ports of entry. That cooperation may be helping border officials reduce the flood of migrants that forces the catch-and-release policies. The catch-and-release policies allow migrants to get jobs from U.S. employers and to repay their debts to the cartels' migrant-smuggling business:
Mexican police are helping US border officers limit the daily # of caravan asylum requests. This is important b/c it may prevent catch & release which happens when migrants overwhelm border. But Trump also must win court/asylum fight vs. progressives & biz https://t.co/EVsSxj4U34

— Neil Munro (@NeilMunroDC) November 17, 2018
Trump continued:
The whole border. I mean, the whole border. And Mexico will not be able to sell their cars into the United States where they make so many cars at great benefit to them — not a great benefit to us, by the way. But at least now we have a good new trade deal with Mexico and with Canada. But we will close the border. And that means that Mexico is not going to be able to sell their cars into the United States until it's open.

But we're going to either have a border or we're not. And when they lose control of the border on the Mexico side, we just close the border.
But business groups would strongly resist any shutdown of all or parts of the border. Some industries and companies would be forced to reduce operations within a few days if their cross-border supply of parts, food, or migrant workers are interrupted.
Trump also suggested that prior presidents opposed border controls and that many Democrats now oppose border controls because they gain politically from opposition to it:
Some of the [prior U.S.] presidents, I guess they didn't care or they wanted open borders. I don't think they wanted open borders– because most of them, if you go back to 2006, they all approved essentially a wall, a very powerful fence, which is pretty much the same thing. But in 2006, if you look, [former President Barack] Obama, you look at Hillary Clinton, you look at [Sen. Chuck] Schumer, all of the people that are standing up protesting, they think it's good for them politically. See, I think it's bad for them politically. I think the fact that they're weak on the border is very, very bad for them politically. But you know, I have only been a politician for three years, so maybe they know better than me.
Officials expect to appeal the judge's order to the U.S. Supreme Court.
http://feedproxy.google.com/~r/breitbart/~3/UKgY6zyN8aE/