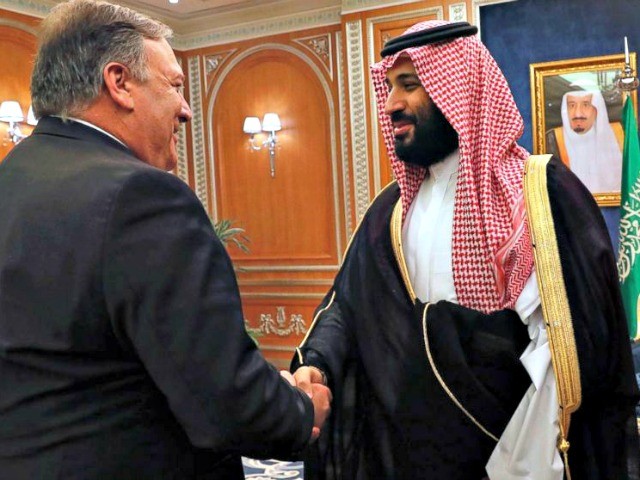 President Donald Trump spoke with Crown Prince of Saudi Arabia Mohammed bin Salman, who repeated his denial of having regime dissident Jamal Khashoggi killed.
"Just spoke with the Crown Prince of Saudi Arabia who totally denied any knowledge of what took place in their Turkish Consulate," Trump wrote on Twitter.
Khashoggi was last spotted entering a Saudi consulate in Turkey and never reappeared. Turkish officials have claimed that he was captured or killed.
Trump sent Secretary of State Mike Pompeo to Saudi Arabia to respond to the incident, which has threatened diplomatic and business ties to the United States.
The president said that Pompeo was with Bin Salman during the call and said he would launch a "full and complete" investigation into Khashoggi's disappearance.
"Answers will be forthcoming shortly," Trump concluded.
…during the call, and told me that he has already started, and will rapidly expand, a full and complete investigation into this matter. Answers will be forthcoming shortly.

— Donald J. Trump (@realDonaldTrump) October 16, 2018
Republican Senators Marco Rubio and Lindsey Graham have criticized the Saudi regime and the Trump administration's response to the incident.
"This guy has got to go," Graham said on Tuesday on Fox News about the Saudi Crown Prince. "Saudi Arabia, if you're listening, there are a lot of good people you can choose, but MBS has tainted your country and tainted himself."
Sen. Rubio said the event was a "catastrophe" for relations between the United States and Saudi Arabia.
"This is a fear we've had for a long time — is that the crown prince is a young and aggressive guy that would overestimate how much room he had to do things, would get over aggressive and overestimate his own capabilities and create a problem such as this," Rubio said in an interview with CNN on Tuesday.
http://feedproxy.google.com/~r/breitbart/~3/EXW5kKQOyjI/