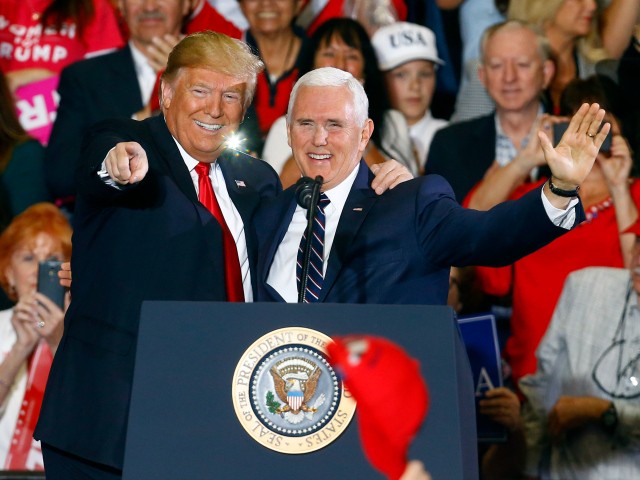 President Donald Trump said Saturday that the New York Times should retract a story claiming he was questioning Vice President Mike Pence's loyalty.
"Mike Pence is 100 percent," Trump said. "Not even a doubt about it in my mind. He's been a trooper. … I could not be happier, and I don't question his loyalty at all," Trump added about the story as he left the White House for a trip to visit the wildfire devastation in California.
The New York Times reported that Trump was asking "aides and advisers" if Pence was loyal in recent days.
But Trump dismissed the story, calling it "fake news."
"It was a phony story," Trump said. "I doubt they had any sources, a typical New York Times phony story."
The Times cited "outside advisers" to the president who felt Trump should get a running mate to help him with women voters, such as Nikki Haley.
But Trump repeated that Pence was "100 percent loyal" as vice president.
"They should retract that story," he said, continuing, "He's already been tested, in many ways. Mike Pence is a terrific person."
Trump ridiculed the reporters of the article for not asking him for a comment.
"How do you do a story like that?" he asked. "It's fake news, and that's what breaks up a country."
Trump already asked Pence during a press conference after the midterm elections to be his 2020 running mate.
"Mike, will you be my running mate?" he asked, as reporters laughed.
Pence, who was present for the press conference, nodded his head in agreement.
"Thank you. Okay, good," Trump said.
http://feedproxy.google.com/~r/breitbart/~3/DsF2sKPYsC4/